Student Send-Off Parties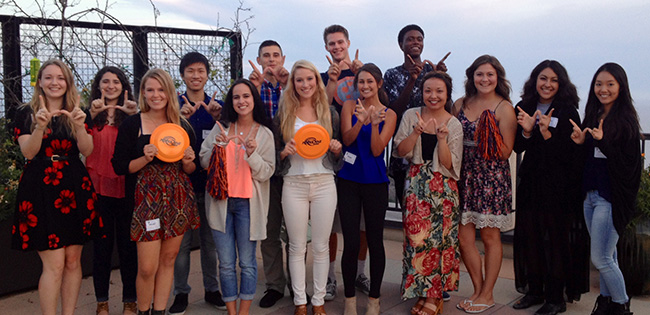 Send-Offs 2017
Help us welcome the newest Waves to the Pepperdine family! Each summer Seaver College hosts Send-off Parties in locales across the country.
The summer's send-off party season will begin in July. Student send-offs are exciting and informal events held for incoming freshmen prior to their departure for Pepperdine. Send-offs are held in cities spanning the United States and typically occur during the summer months, beginning early July and concluding in mid August. For more information about this year's send-off parties and to register for a party near you, click here.
Why attend a Send-off Party?
1. Get answers to your questions—Returning students and parents have answers.
2. Meet other incoming students—After attending your area's Send-off Party, you'll know them!
3. Plus, you'll meet other parents and students from your area!
Don't miss this opportunity for incoming students and parents to learn about the Pepperdine experience from returning students, parents and alumni in your area.
My student cannot attend our Send-off Party. May I come to the event so that I can meet other parents and students in our area?
Absolutely! We understand that students may have prior commitments—We would be delighted if parents come even if their student cannot.
Send-offs can be hosted by alumni, Seaver College parents or friends of Pepperdine University. At the events, Seaver parents help welcome, meet and greet, and answer questions posed by new parents or students.
If you are interested in hosting one of our 2017 send-off events, please contact Kim Barkis by clicking here..
Special thanks to our wonderful 2016 Send-off Party Hosts!
Tracy and Steven Anderson, Robert and Denise Beaman, Cheryl and Stan Berry, Eric and Deborah Beyer, Kathleen and Brian Bragaw-Butler, Rodney and Deena Burnett-Bailey, Thomas and Michele Carr, Todd and Bonnie Courtney, Kim and Corey Cowger, William and Rebecca De Loache, Donna and Ray Donoghue, Cindy and Jeff Erselius, Scot and Pam Finck, Ray and Sonia Ginnell, Mark and Laurie Headrick, Patricia and William Jameson, John and Kelly Latimer, Steven and Laurel Lemaster, David and Ruth McRaven, Louis and Joanne Mossucco, Greg and Catherine Pacos, Andrea and John Phillips, Monique Piller, Stephen and Laura Quisenberry, Jeff and Amy Rogers, Sam and Sheila Schmidt, Denise and Michael Slattery, Priya and Stephen Sprenger, Tammy Tigner, John and Carrie Wanninger, Bryan and Suzy Welbaum, David and Cherie Wilkinson, Phoebe and Dexter Witte, Eric and Jennifer Wolford