New Student Send-Off Parties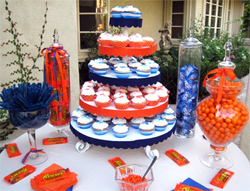 Sponsored by Seaver College Parents Program
You and your family are cordially invited to attend a new student send-off party this summer of 2019! If you are interested in volunteering at a Send-off party or hosting a party this summer, please contact Christine Galvin at (310) 506-6334.
What is a send-off party?
Attending a send-off party is one Pepperdine event you won't want to miss! Taking place between the beginning of July and the second week of August in hometowns across the nation, these events are designed especially for newly admitted Seaver College students. The parties provide a chance for incoming students to get to know fellow classmates before they begin their college journey at Pepperdine.
Current Pepperdine parents, alumni and friends serve as our send-off party hosts and hold parties in their homes, local restaurants, parks, or any place where new students and families can gather together to get excited about attending Pepperdine!
Look for a 2019 Send-Off Party near you soon!
We look forward to welcoming you into the Pepperdine family! If you have any questions or need to cancel your reservation please contact the Seaver Parents Program Office at (310) 506-6334 or parentsprogram@pepperdine.edu.