Jumpstart Program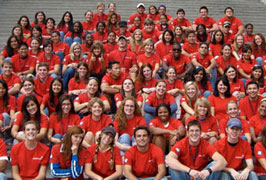 The Jumpstart program is working toward the day when every child in America will enter school prepared to succeed.

Participants of the program serve early childhood learning centers developing relationships with preschool children, their family members, and teachers. Students are placed on a Jumpstart team and commit to serve 300 hours over the course of an academic year. Together, these students implement curriculum, plan family involvement events, and serve at the learning centers.

How can you get involved?

Join Pepperdine's Jumpstart program and use your federal or Pepperdine work study award to make a difference in a child's life. Additionally, Jumpstart team members receive an AmeriCorps Education Award after completing their commitment. Jumpstart is a program within the Pepperdine Volunteer Center.

Contact Information

Phone: (310) 506-4143
Hours: 8:00 a.m. - 5:00 p.m. Monday through Friday
Location: Tyler Campus Center (TCC), Office 230

Visit the Jumpstart website or jumpstart@pepperdine.edu.