Meet the Faculty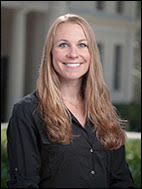 Stephanie Cooper, Ph.D.
Visiting Professor of Sports Medicine
Division: Natural Science Division
Office: Rockwell Academic Center (RAC) 177
Phone: (310_ 506-4420
E-mail: stephanie.cooper@pepperdine.edu

Ph.D., Kinesiology, University of Georgia, 2014
B.A. & B.S., Sports Medicine, Pepperdine University, 2008
Courses:
Foundations of Health and Fitness (SPME 450)
Neuromuscular Adaptations to Training (SPME 440)
Physiology of Exercise (SPME 360)
Psychology of Exercise (SPME 320)
Statistical and Research Methods (MATH 317)
Academic Interests:
Effects of acute and chronic exercise on mental health
Selected Works:
Cooper, S.L. & Tomporowski, P.D. (2017). Acute Effects of Exercise on Attentional Bias in Low- and High- Anxious Young Adults. Mental Health & Physical Activity, 12, 62-72.
Okumura, M.S., Cooper, S.L., Ferrara, M.S., Tomporowski, P.D. (2013). Global Switch Cost as an Index for Concussion Assessment: Reliability and Stability. Medicine & Science in Sport & Exercise, 45(6), 1038-1042.
Davis, C.L. & Cooper, S. (2011). Fitness, Fatness, Cognition, Behavior, and Academic Achievement Among Overweight Children: Do Cross-Sectional Associations Correspond to Exercise Trial Outcomes? Preventive Medicine; 52, S65-S69.