Meet the Faculty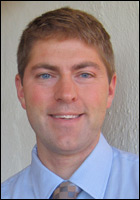 George Arthur Carlsen
Assistant Professor of Hispanic Studies
Division: International Studies and Languages Division
Office: Pendleton Learning Center (PLC) 193
Phone: (310) 506-7957
E-mail: George.Carlsen@pepperdine.edu

Ph.D. in Spanish, University of California, Riverside, 2008
M.A. in Spanish, University of California, Riverside, 2005
B.A. in Spanish, Willamette University, 2001, Spanish Department Honors
Courses:
Colonial Latin American Literature
Spanish Phonetics and Conversation
Spanish Civilization
First Year Spanish
Second Year Spanish
Key Awards/Affiliations:
Glazer Institute Half-Grant for Research, 2011
Dean's Fellowship - University of California, Riverside, 2003 - 2008
Dean's List - Willamette University, 2001
Modern Language Association
American Association of Teachers of Spanish and Portuguese
Academic Interests:
Border Studies
Contemporary Hispanic and Lusophone Cultural and Literary Studies
New Media
Selected Works:
"Brazilian Masculine Identity in Mario Prata's Album Novel Buscando o seu Mindinho: Um Almanaque Auricular (2002)" Portuguese Literary and Cultural Studies 22-23, 2012, forthcoming.
"An Album Novel for a Border City: The Case of Idos de la mente: la increíble y (a veces) triste historia de Ramón y Cornelio by Luis Humberto Crosthwaite" Letras Hispanas, 7, Fall 2010.
"Multi-Media Celebrity, Online Narrative and the Print Memoir: The Case of O Doce Veneno do Escorpião by Bruna Surfistinha" Symposium, Spring, 2009.
"The Novel in Mexico and Brazil in the Age of Globalization and Information Technology (2000-2005)," Doctoral Dissertation, University of California, Riverside, Directed by Raymond L. Williams.