Meet the Faculty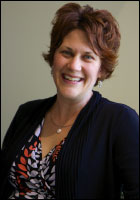 April D. Marshall
Professor of Hispanic Studies
Senior Associate Dean of Seaver College
Division: International Studies and Languages Division
Office: Thornton Administrative Center (TAC) 320C
Phone: (310) 506-6553
Fax: (310) 506-4816
E-mail: april.marshall@pepperdine.edu

Ph.D., Spanish, New York University, 2003
M.A., Spanish, University of Louisville, 1998
B.A., Spanish and History, University of Louisville, 1996
Courses:
Elementary Spanish II
Advanced Spanish Grammar, Composition, and Creative Writing
Intensive Elementary Spanish
Intermediate Spanish
Freshman Seminar - Imagining Illness: Representations of Disease in Literature, Art, Music and Film
Survey of Spanish-American Culture and Civilization
Literature of Spanish America II (1880-Present)
Nobel Prize Literature of the Hispanic World
Gabriel Garcia Marquez: Story Magic
Literature of Spanish America I (Beginning - 1880)
Key Awards/Affiliations:
Pepperdine Dean's Research Grant, 2004-2005
Sigma Delta Pi National Spanish Honors Society
Modern Language Association
American Association of Teachers of Spanish and Portuguese
Academic Interests:
AIDS and Literature
Disease as a Historical Force in Latin America
Disease as Metaphor in Latin American Literature
Incorporating Technology in the Language Classroom
Selected Works:
"'Onomastic Emphasis' in Julia Álvarez's Saving the World." NAMES. 57.4 (2009): 229-235.
Representing Suffering: El dolor de Colombia en los ojos Botero. Hispanic Research Journal. 9.5 (2008): 478-492.
"Practices and Principles for Engaging the Three Communicative Modes in Spanish through Songs and Music. Co-author Frank Nuessel. Hispania. 91.1 (2008): 139-146.
Portraying Plague: The Possibilities in Puenzo's La peste. Into the Mainstream: Essays on Spanish American and Latino Literature and Culture. Ed. Jorge Febles. Newcastle, UK: Cambridge Scholars Press, 2006. 170-182.
Metaphors We Die By. Perspectives on Metaphor. Ed. Frank Nuessel. Spec. issue of Semiotica. 161.1/4 (2006): 345-61.