Mentor Teachers
As a requirement of the teacher preparation program at Seaver College, teacher candidates receive hands-on clinical practice through clinical placements. While completing their clinical placement, each teacher candidates is paired with a mentor teacher (MT). Teacher candidates share their experience with their mentor teachers below.
Mentor Teacher: Natalie Smith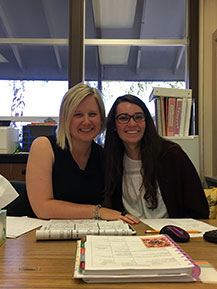 Teacher Candidate: Lauren Hail
Conejo Elementary School, Conejo Unified School District
Ms. Natalie has been an incredible mentor teacher. She is kind and constructive and the perfect mentor in this imperative process. She grants me opportunities to plan and teach lessons. I attend meetings and conferences with her, seeing first-hand all the components of teaching--working with teachers, parents, and students. She provides feedback on all of my lessons and emphasizes the changes I can make in the future. Classroom management and whole group instruction is not something I had the opportunity to practice outside of part time and full time student teaching and thus, I am so grateful to share Ms. Natalie's classroom. Ms. Natalie has taught me not to view my lessons as including positive and negative components, but instead as components I did well and ones I can change in the future. She reminds me that teachers are constantly learning how to improve their teaching and encourages me to view everything as a chance to learn. I have had many opportunities to test out my teaching strategies and further develop my pedagogy. I am extremely grateful for Ms. Natalie and the learning experiences I have enjoyed under her care.
Mentor Teacher: Craig Spurrier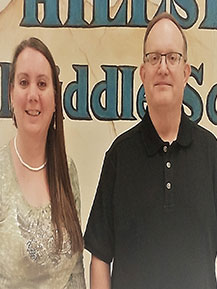 Teacher Candidate: Amy Preston
Hillside Middle School, Simi Valley Unified School District
My mentor teacher is a wonderful educator and a great encourager. He wants me to be a successful teacher and has allowed me to work with his beginning band and string classes to give me the most experience possible. He is always there to step in when needed or when he feels a crucial aspect needs to be addressed. After I teach, Mr. Spurrier provides me with helpful feedback and encouraging comments regarding the better aspects of my teaching. One of the biggest lessons I have learned from Mr. Spurrier is that it is crucial to show the students what I am trying to teach them. Concepts are understood better when they see and hear them put into action by me or another student. With his 28 years of experience, I believe I am getting a full education on the many aspects of being a music educator in his classroom.
Mentor Teacher: Carolyn Wells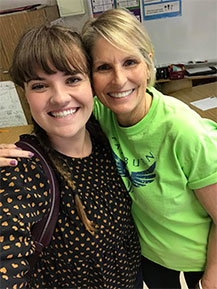 Teacher Candidate: Kelsey Sutton
Fairburn Avenue Elementary School, Los Angeles Unified School District
My mentor teacher is Ms. Carolyn Wells, a third grade teacher at Fairburn Avenue Elementary School. Ms. Wells is a fellow Pepperdine graduate and an incredible teacher. She brings so many unique elements to her teaching, some of these elements are due to the fact that she worked as a businesswoman before becoming a teacher. She has been so incredibly supportive of my endeavors and I feel that working with Ms. Wells will help me greatly in becoming a well-rounded teacher. Ms. Wells has given me many tips and I sincerely appreciate her mentorship.
Mentor Teacher: Brinden Wohlstattar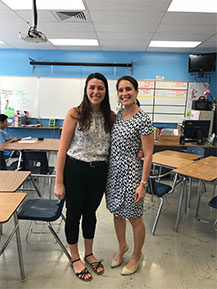 Teacher Candidate: Jessica Wall
Thousand Oaks High School, Conejo Unified School District
In my journey to becoming an English teacher, I have learned through my master teacher, Brinden, that to teach stories to students, you must learn students' stories. In her interactions with her classes, Brinden displays a keen intuition for the needs of each individual student. She listens and seeks to understand where they are coming from in order to ascertain where they will need to go in the coming school year. Brinden shoulders massive burdens in and out of the classroom, which makes her warm and empathetic teaching style all the more admirable. She is a dedicated educator, a resilient woman, and an inspiring master teacher. I am grateful to be both a student and a teacher in her classes!