Mary Pickford Foundation Music Project and the Pickford Ensemble
This is a story of a truly unique new music project at Pepperdine University. It is the first of its kind and made possible by a partnership between the Music Composition program at Pepperdine and The Mary Pickford Foundation.
The educational mission of The Mary Pickford Foundation Music Project is to train young composers and performing musicians in the art and presentation of silent film scoring. Composing for a select chamber ensemble comprised entirely of collegiate instrumentalists, our student composers selected to participate in this project have learned to develop an effective music score for live players that supports the visual drama on the screen. The Pepperdine student instrumentalists in The Pickford Ensemble who will perform this music learn the special and valuable discipline of perform music along with another linear artistic medium such as silent film, which requires the performer to be constantly "on and present" at every moment.
Our goal in using the films of Mary Pickford, a pioneer of early cinema, is to instill in our students and to all who experience this project some sense of the passion, initiative, and artistic originality that helped Mary Pickford become a leader in twentieth century film and a legend today.
The Mary Pickford Foundation Music Project will create a unique music-art genre by combining live original modern chamber music with the wonderful visual art of silent film. Originally founded in 1895, the Biograph Company was devoted entirely to film production and exhibition from 1895 until 1928. Using the Biograph films starring a very young Mary Pickford, the project provides a new and exciting vehicle to introduce Mary Pickford to a new young audience, typically those in their teens and twenties.
Through this project, we provide the opportunity for young fertile imaginations to create original music and soundscapes that would highlight the emotions and feelings shown onscreen, taking the experience of viewing beautifully restored "silent" films into new and imaginative realms of possibilities.
The Pickford Composers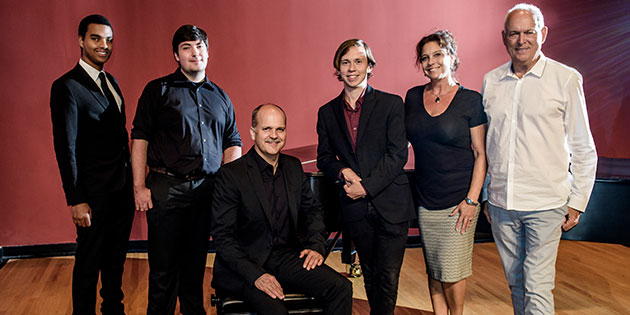 Pickford Composers Jens Ibsen, Max Ginnell, and Jared Taylor with Professor N. Lincoln Hanks, and Elaina Archer (Director of Legacy and Archiving), and Henry Sotsenberg (Chairman and CEO) from the Mary Pickford Foundation.
Through a juried process, the music composition faculty at Pepperdine and the composer-in-residence select three students from the composition program to compose new silent film scores.
Each of the selected composition students receive a scholarship at the beginning of the fall semester as they began work with the understanding that they would complete the project in a timely fashion and in good form. Film "reels" of Mary Pickford films are by the Mary Pickford Foundation in consultation with the Pepperdine music composition faculty. N. Lincoln Hanks, Director of Music Composition at Pepperdine University, guides these three students through the creative process in private weekly lessons.
In addition to their weekly lessons, a guest professional composer conducts a five-day residency on the Pepperdine campus in the fall semester, working with our student composers in the Pickford program and conducting a general master class. This composer adds a "finishing touch" to our students' efforts.
The Pickford Ensemble
This new music ensemble is dedicated to performing this special music. The Pickford Ensemble represents Pepperdine's finest student instrumentalists.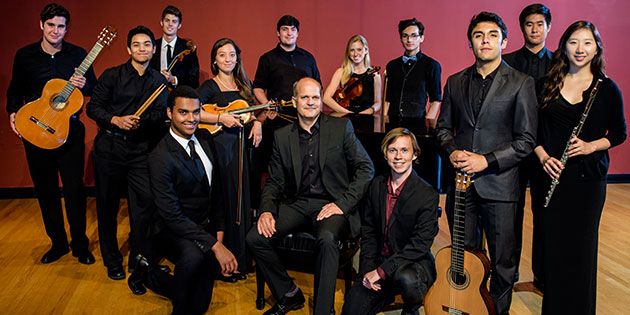 The Pickford Ensemble 2015-2016: Stephanie Yoon, flute; David Oh, clarinet; Max Ginnell, percussion and keyboard; Marco Leong, percussion; Alexis Raymond, soprano; Rebecca Calis, mezzo-soprano; Jon Gibson, tenor; Andrew Leidenthall, baritone; Sergio Gallardo, guitar; Andrew Urias, guitar and elec. guitar; Dyer Bowers, violin; Meriel Peterson, violin; Pierre Viallant, cello; Kai de Becker, double bass; Alex Park, guitar (not pictured).
Funded by a generous grant by The Mary Pickford Foundation, each member of the student ensemble has the honoring identifier, "Pickford Musician," next to his or her name listed on any official Pepperdine music program brochure.
Up Against the Screen II: New Music with Film
In the 2015-2016 school year, our featured silent film was The Little Princess (1917). Directed by Marshall Neilan and starring Mary Pickford in the role of Sara Crewe, this film featured a screenplay written by Frances Marion and was based on the 1905 novel by Frances Hodgson Burnett. The film also featured co-stars Norman Kerry, Katherine Griffith, and ZaSu Pitts.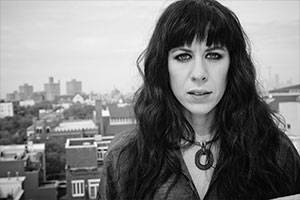 Missy Mazzoli, composer-in-residence
Our three Pepperdine student composers were each assigned a large segment of A Little Princess and were tasked with composing a score especially for the unique instrumentation of the Pickford Ensemble which featured flute, clarinet, electric guitar, acoustic guitar, percussion, piano, and strings. In November of 2015, we hosted internationally renowned composer Missy Mazzoli, who worked with our composition students as the finished their scores.
On April 9, 7:30 PM, under the direction of Pepperdine Professor of Music N. Lincoln Hanks, we premiered this new music at Up Against the Screen II: New Music with Film with a live screening of the film at Pepperdine's outdoor Amphitheater on the Malibu Campus.
For more information and to keep up to date on the group's upcoming performances and other activities, check out our Facebook at Up Against the Screen: New Music with Film, or email Professor N. Lincoln Hanks for further information about The Mary Pickford Foundation Music Project.
Past Projects and Student Participants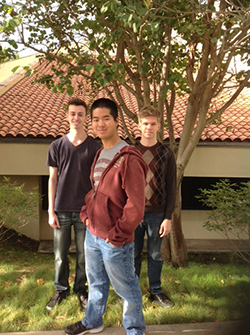 The Pickford Composers (2013-2014) Matthew Aune, Thomas Yee, and Andy Gladbach.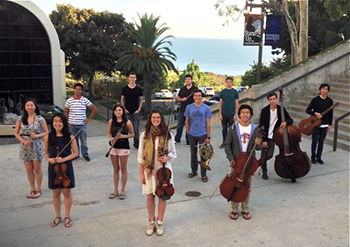 The Pickford Ensemble 2013-2014: Stephanie Yoon, flute; Mandy Williams, oboe; Scott Woods, saxophone; Jared Chumsae, horn; Max Ginnell, percussion; Alex Park, guitar; Andrew Gladbach, piano;Niki Fukada, violin; Hannah Samson, viola; Edward Kang, violoncello; Kai de Becker, contrabass.