Catherine Del Russo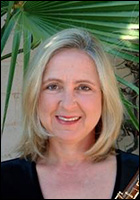 Catherine Del Russo currently is the Principal oboist of the Santa Monica Symphony, the Downey Symphony and the English horn player with the Hollywood Bowl Orchestra.
As a freelance musician, Ms. Del Russo has performed with almost every orchestra in Southern California. She performed as Principal oboist with the Three Tenors and the Glendale Symphony Orchestra in Las Vegas, broadcast live on the internet. During the 2001- 2002 season, she was the Associate Principal oboist for the Honolulu Symphony Orchestra.
In recent years she has performed concertos with several local orchestras: Bach's Brandenburg Concerto No. 2 with the Glendale Symphony Orchestra, L'horloge de Fleur by Jean Francaix with the Santa Monica Symphony, the Mozart Oboe Concerto with the Los Angeles Mozart Orchestra, and the Vivaldi Concerto in F Major with the Beverly Hills Live Orchestra. This season she will be performing the Mozart Sinfonia Concertante as soloist with the Santa Monica Symphony Orchestra.
Del Russo has traveled on various tours and performed with symphony orchestras in Venezuela, Japan, Brazil, Spain, and Alaska. She has recorded with the Hollywood Bowl Orchestra, the San Diego Chamber Orchestra and on the Telarc recording, Movies Go Baroque. This year, Catherine participated in a solo woodwind recording with bassoonist Allen Savedoff called "Savoir Faire" on Capstone records.
She has been heard on many feature films, including Pocahontas, One Tough Cop, Homeward Bound, Ragman and The Day After Tomorrow. She has recorded on television movies such as David and Lisa and on numerous television commercials.
Ms. Del Russo is the oboe professor at Pepperdine University in Malibu, California. She is a graduate of the Eastman School of Music, where she studied under Robert Sprenkle.

Email: Catherine.DelRusso@pepperdine.edu