Students Get Meeting with Warren Buffett
For the second time in three years, Pepperdine students had the opportunity to travel to Omaha, Nebraska and meet with the "Oracle of Omaha" himself, Warren Buffett.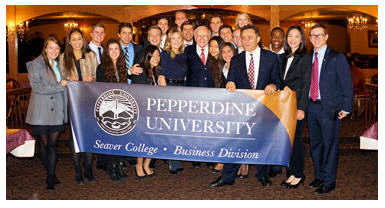 In October 2010, twenty students from the business division met with Warren Buffett in his hometown of Omaha, Nebraska. The meeting with the legendary billionaire investor was the result of a four-year effort by professor of finance Levon Goukasian, who along with students like Ryan Huddleston of the Finance and Investments Club, began a letter-writing campaign to the Berkshire Hathaway CEO back in 2006. Take a peek at the letter that started it all.
The students spent two days in Omaha, where they toured some of Berkshire Hathaway's holdings and had lunch with Mr. Buffett. Making a great trip even better was the generous support of our division's alumni network, who paid for the airfare and hotel stays of all twenty students.