Alum Sarah Guillen Aces California CPA Exam
Accounting major's top auditing skills stand out
Thanks to her perfect score on the auditing portion of the rigorous California CPA exam, Business Administration Division alumna and Seaver College salutatorian Sarah Guillen made the cover of the magazine for the California Society of CPA's.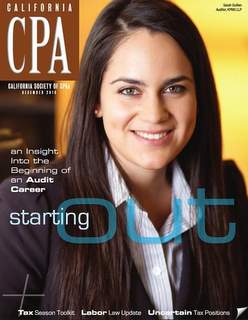 Such an achievement makes her earning outstanding scores in all other portions of the test almost seem like a small feat -- almost. Sarah credits her remarkable achievement to her family and diligent pre-exam preparation.
Even though she's no longer in school, Sarah is still motivated to challenge herself, saying "I try to look for the learning opportunities in every challenge, and remind myself that, with every obstacle I overcome, I'm growing as a person."
Read more about Sarah's path as a first-year auditor for KPMG at the California CPA website.