Meet the Faculty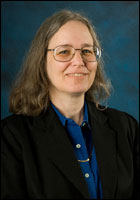 Marilyn B. Misch
Professor of Accounting
Division: Business Administration Division
Office: Center for Communication and Business (CCB) 356
Phone: (310) 506-7562
E-mail: marilyn.misch@pepperdine.edu

Ph.D., Arizona State University
M.I.M., American Graduate School of International Management (Thunderbird), 1992
M.S., University of Illinois, Urbana-Champaign, 1988
B.S., Pepperdine University, 1983
Courses:
Financial Accounting
Intermediate Accounting
Key Awards/Affiliations:
Advisor, Pepperdine Accounting Society
Certified Public Accountant, California
Howard A. White Award for Teaching Excellence, 2004
Pepperdine University Teacher of the Year, 2000
American Accounting Association, Teaching, Learning and Curriculum Section Program Committee Member
Best Paper in Higher Education Award, Global Business Development Institute Conference, 2010
Academic Interests:
Accounting Pedagogy and Curriculum Development
Financial Accounting
International Financial Accounting
Olympics Research
Selected Works:
Misch, M., Baim, D. (2016). Using Small Baskets of Financial Assets to Estimate Exchange Rates: The Argentine Experience. Graziadio Business Review, 19 (2).
Baim, D., Goukasian, L., Misch, M.B. (2015). Olympic Sponsorships, Stock Prices, and Trading Activities. International Journal of Sports Finance, 10 (2), 176-195.
Misch, Marilyn and Baim, Dean, "The Infrastructure, Facilities, and Institutional Legacies of the 1988 to 2008 Olympic Games", International Journal of Sport and Society, forthcoming.
Misch, Marilyn and Galantine, Carolyn, "A Financial Statement Analysis Project for Introductory Financial Accounting", Global Perspectives on Accounting Education, Volume 6, 2009.
Baim, Dean and Misch, Marilyn, "Beijing Olympics 2008: What Kind of Games Do You Want to Play?" Review of Business Research, Volume 8, Number 6, November 2008.
"An International Project for Accounting Classes", The Journal of Accounting and Finance Research, Volume 12, Number 2, Summer 2004.
"An International Financial Analysis Project for the Accounting Curriculum", Journal of Academy of Business and Economics, Volume 1, Number 2, October 2003.