Unforgettable Student Opportunities in the First TEDxPepperdineUniversity
On March 13, 2019, Pepperdine staff and students quickly began transforming Firestone Fieldhouse into the professional conference location for the inaugural TEDxPepperdineUniversity event. A sold-out crowd and more than a thousand people streaming the event live witnessed thought-leaders at Pepperdine join a global conversation. Now, as excitement surrounds the launch of the speakers' videos, Ryan Groves (MA '15), director of strategic employer partnerships and coordinator of TEDxPepperdine, reflects on how the event came about and what made this TEDx stand out from the crowd.
On the Beginning of TEDx Event Hosted by Pepperdine
I was first approached by Seaver student Jerry Yang ('19), who carried the torch in applying for the license to host a TED event. I immediately urged him to do it. Having worked with students at more than 50 different universities, I've found most young leaders just need someone to give them permission to do the great things they're already forming in their minds. Taking on a TED event seems incredibly daunting, but it is these events that allow students to explore their remarkable capacity to lead, create, and serve in unforgettable capacities. Pepperdine has a unique culture that allows us to support the independent ventures of our students. It's quite inspirational to witness our students' entrepreneurial spirits, both those that are innate and those nurtured by our faculty and staff.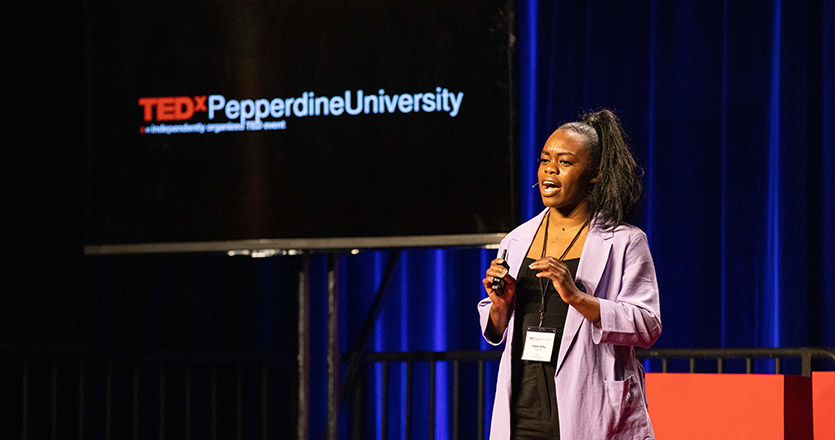 On What Set TEDxPepperdineUniversity Apart From the Rest
The planning team consisted of 30 incredible students. They came together to create a completely student-run TEDx event. It is rare for universities to let students lead such a high-profile initiative. Our student organizers included Jerry Yang, who spearheaded coordination; Jacob Wolfe, our lead curator; Caitlin Fogg, who managed sponsorships; Daniel Kim and Tak Chun Wong, who carefully planned logistics and operations; and so many more. It's even rarer to let students make up a significant portion of the speaker slots. In a competitive pool of 200 speaker applications, students Emma Johnson ('19), Raymond Rider, Olivia Robinson, and Elijah Zoarski ('19) were chosen. These students put in more than 100 hours—meeting almost every Saturday and working in one-on-one sessions—to create a powerful 12-minute talk. This, bolstered by the TEDx platform, allowed us to curate meaningful conversations between exceptional students and leaders in the business community.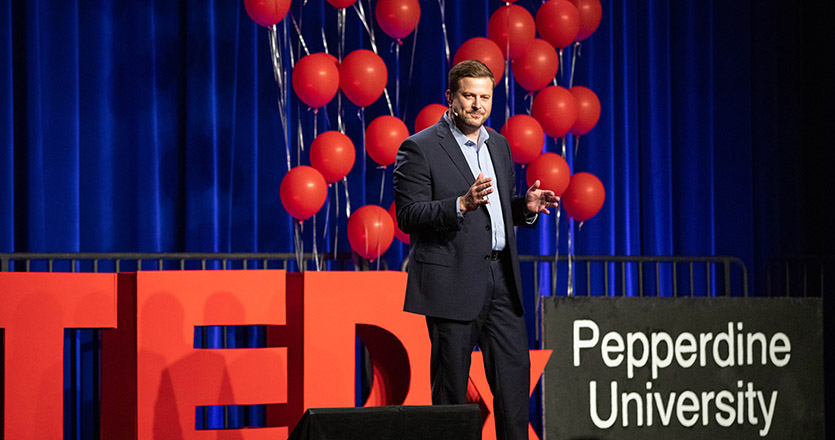 On the Future of TEDxPepperdineUniversity
Pepperdine is excited to continue our commitment to hosting a global conversation with TED. On January 30, 2020, the second TEDxPepperdineUniversity will center on the theme "Surf to Summit" and the unique connection between changing currents and the pinnacles of success. This event will continue to be made possible through student organization and development. It offers them a dynamic way to get involved and grow in exponential professional ways. You can find last year's talks and the application to speak at or attend next year's event at TEDxPepperdineUniversity.