Alumni Project Serve Overview
Since 2010, Alumni Project Serve has been an impactful service tradition for hundreds of alumni and their friends and families. Each year, we select a US city to host a three-day itinerary of meaningful community service projects and fun social activities, and Waves join us from all over the world to serve together.
Alumni Project Serve 2015: San Francisco
---
We returned to beautiful San Francisco for our sixth APS adventure, bonding with fellow Waves and our families while literally helping to feed and put a roof over the heads of families and individuals in need.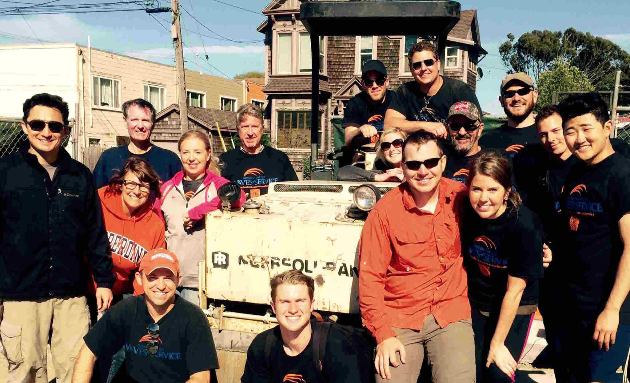 Our itinerary kicked off with a visit to Seaver College alumna Nicole Flowers ('04), who hosted an afternoon of fellowship as we prepared dinner bags for those nearby without homes. After preparing the food, we divided into groups to distribute the welcomed, tasty nourishment to appreciative men and women. Nicole, an amazing alumna with a heart for serving her community, is the founder of hiip, a designer hip bag company with a service-driven twist. For every hiip purchased, a kit of necessities (think of it as a survival bag of sorts) will be hand-delivered to a person in need on the street. Learn more here.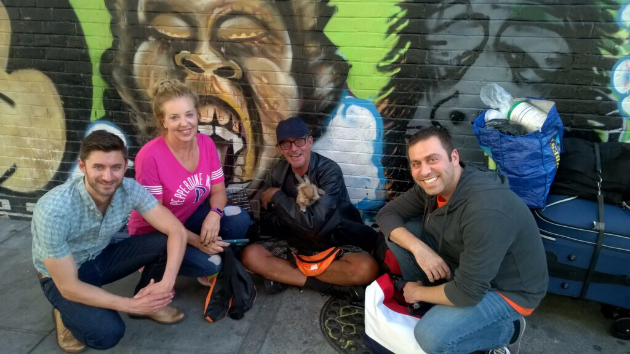 We began day two with a fun and impactful service project sorting and packaging food supplies for the San Francisco Food Bank to distribute to individuals, families, and schools in need across the city. Our mighty Pepperdine volunteers sorted 7,500 lbs. of canned goods and prepared 1,000 lbs. of oatmeal, all in less than three hours!
Later that day, the Bay Area Waves alumni chapter hosted an evening of spirited Pepperdine fun at the Prickly Pear Cantina in Danville, owned and operated by Seaver alumna Natalie Worth ('95) and her husband, celebrity chef Rodney Worth. In addition to enjoying some incredible Mexican food generously donated by the Worths, we collected dozens of canned goods which we later delivered to the San Francisco Food Bank.
On the third day, we teamed up with Habitat for Humanity to help build "Habitat Terrace," a development of 28 GreenPoint Rated town homes in the Oceanview neighborhood of San Francisco. This construction site had experiences a setback in the form of a fire several months earlier, so they really needed our help!
To conclude our time together, we gathered at Old Skool Café – a 1940s-styled, youth-led supper club – to enjoy a nice meal and reflect on our service experience.
Old Skool Café is a faith-based, violence-prevention program, providing jobs and training to the at-risk youth—ages 16-22—who run the restaurant. Their story is inspiring, and the food, prepared by top-rate chefs, is outstanding.
Here is what Waves had to say about Alumni Project Serve 2015:
"It was so wonderful and exciting to spend some time with my Pepperdine family. I am so thankful and so proud to be an alumnus from Pepperdine. I was reminded as to why my Pepperdine experience was the best experience of my life." – Gary Johnson (SC '98)

"Alumni Project Serve is a great opportunity for alums to get together, share Christ with others, and grow the Pepperdine value of service to others. It also keeps pride and involvement with Pepp alive!" – Nicole Flowers (SC '04)



"What a joy it was to be able to serve alongside my fellow Waves. This affirmed for me the mission of Pepperdine and strengthened my ties with a number of fellow alumni. I hope that we will continue to do this, allowing us to strengthen our ties with one another and remind us of what Pepperdine is all about!"
– Hung Le (SC '87)


"About a dozen of us working in groups of three of four packed up oatmeal, raisins, brown sugar, and fanny packs of personal items such as toothpaste and deodorant. We went down four separate streets and gave the oatmeal and fanny packs to some very, very grateful people. What is incredible to me is the fact that these homeless people say that they will pray for us. The gifts that the homeless give back to us were much more meaningful than the food that we gave them." - Dr. Jack McManus, Professor, Pepperdine's Graduate School of Education and Psychology
It was one of our best and most rewarding programs yet, and we are eager to share the joy with more Waves. If you are interested in joining us next year and wish to stay informed, please contact Matt Ebeling at matt.ebeling@pepperdine.edu or (310) 506-4348.
View more photos from this and previous Alumni Project Serve adventures HERE.