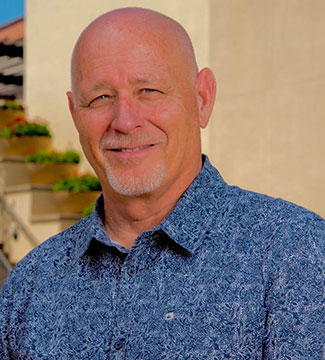 Mark Jacobs
Visiting Instructor of Visual Storytelling and Journalism
Communication
, Seaver College
CCB 147
Biography
Mark Jacobs is a United States Army veteran and television and film director (DGA), producer, and video editor with 45 years of professional experience. Before transitioning to television, commercials, music videos, and documentary- and feature film- making, Mark worked in television news for 28 years as a top photojournalist and news manager. In San Diego, Mark was the assistant news director, chief photojournalist, and chief editor at the local Fox station (XETV). These positions involved hiring and leading a team in bringing innovative delivery of local news content and testing and implementing new technologies in the photojournalism, editing, and news production departments.
Mark has been honored with 51 television news awards for outstanding news photography and video editing, including 22 Emmys, two Edward R. Murrow awards, and five Golden Mics. Since 2004, Mark has directed over 55 television series and pilots, earning him a daytime Emmy and other prizes.
Being a DGA member requires endorsements from three industry professionals in your area and Council approval. In 2017, Mark was inducted into the Broadcasters Hall of Fame. Mark's documentary, "Jesse's Story," released in 2009, earned ten national and international motion picture awards.
Mark owns a production company and holds an FAA license for aerial photojournalism and cinematography. Mark brings a hands-on approach to directing, cinematography, and editing and knowledge and ethical awareness of news gathering and storytelling that is only gained from extensive experience with telling stories of all types. Mark was embedded as a network pool camera during the Iraq war and Bosnian conflicts. These experiences led Mark to make his way to Hollywood in 2004.
Over the past 18 years, Mark has directed and been the director of photography for over 55 television series and pilots. Most notably shows like Breaking Bonaduce, Rob n Big, Kitchen Nightmares, Glee, The Great Christmas Light Fight, and Ellen, to name just a handful.
Mark is the president and founder of Zzyzx Films Inc, a production company that produces short and feature-length films in the non-profit and philanthropic arenas.
Since 2014, Mark has led numerous teams to Eswatini, Africa, to serve the children that have been left in the wake of HIV and AIDS. Over the course of that time, an entire community center has been constructed and continues to provide the means of education, nutrition, and shelter to those in need.
Mark lives in Torrance, California, with his wife Jocelyn and is the father to his daughter Hanna, a photojournalist at ABC in Las Vegas, and enjoys time spent with his twin grandsons.
Multiple NATAS Emmy Awards
Two Edward R Murrow awards
Numerous UPI and AP awards
Society of Professional Journaists
Multiple Golden Mic journalism awards
Malibu, Beverly Hills, San Diego, Las Vegas, Yalling Up Australia, Newport Beach film festival awards for Jury and Audience Best Feature Documentary
Inducted into the Broadcasters Hall of Fame 2017
Topics
Broadcast Journalism
Film and Televsision