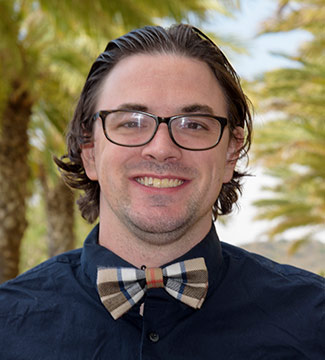 David Skelton
Visiting Assistant Professor of Religion
Religion and Philosophy Division
, Seaver College
TAC 201G
Biography
Dr. Skelton has a PhD in Religions of Western Antiquity from Florida State University. His dissertation is entitled "Singers of Wisdom: Hymnody and Pedagogy in Ben Sira and the Second Temple Period." Dr. Skelton's interests include the role of music in education and antiquity, particularly regarding sectarian communities. His main focus concerns the book of Ben Sira and the Dead Sea Scrolls, and he holds a passion for Jewish-Christian relations.
At Florida State University, Dr. Skelton taught Introduction to the Old Testament and Multicultural Film courses. Additionally, he taught Hebrew at both FSU and Abilene Christian. His most recent work on Ben Sira and music education will be included in a proceedings volume by Brill, set to be published next year, and a Syriac translation of Ben Sira for Gorgias Press.
Dr. Skelton's wife Sarah is a registered nurse. Together, they have three lovely boys with whom they love to play superheroes and read comics.
Education
PhD, Religion, Florida State University, 2017
The Wisdom of Ben Sira according to the Syriac Peshitta Version with English Translation. Antioch Bible Series. Piscataway, NJ: Gorgias Press (with Blake Jurgens, Jacob Lollar). Forthcoming.
"Angels Among Us? The Watchers Myth and Angelology in Ephrem's Commentary on Genesis." In vol. 3 of Eastern Mediterranean Texts and Contexts. Forthcoming.
"Wisdom of Solomon in Syriac" (with Jacob Lollar) in Textual History of the Bible. Vol. 2: Deutero-Canonical Scriptures (ed. Matthias Henze). Forthcoming.
"Thus You Shall Say With A Loud Voice" (Sir 39:15 MS B): Singers of Wisdom in Ben Sira and the Second Temple Period
"Ben Sira's Imaginative Theodicy: Reflections on the Aaronide Priesthood under Gentile Rule," Restoration Quarterly 51 (2009): 1-12.
"Esther" (with Mark Hamilton), in Mark Hamilton et al., eds., The Transforming Word: A One-Volume Bible Commentary (Abilene: ACU Press, 2009).
Fulbright Student Research, 2016-2017
Topics
Ben Sira
Dead Sea Scrolls
Music and Education in Antiquity
Parody and Resistance
Second Temple Judaism
Courses
Old Testament in Context (REL 101)
Links