Meet the Faculty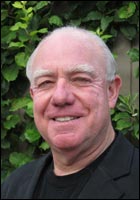 William "Bill" Arnold
Visiting Assistant Professor of Business
Division: Business Administration Division
Office: Center for Communication and Business (CCB) 318
Phone: (310) 506 7246
Fax: (310) 506 4696
E-mail: william.w.arnold.2@pepperdine.edu

Ed.D Leadership/Organizational Behavior, Pepperdine University Malibu, California
Masters in Hospital Administration, University of California, Los Angeles
B.A., University of Washington Seattle, Washington
Key Awards/Affiliations:
Howard A. White Award for Teaching Excellence, 2014
Academic Interests:
Authentic Leadership
Integration of business practicalities with academic theory,
Integrity/Ethics,Distinct competencies to develop next generation of global leaders
Lifelong learning-understanding character/competence equipping to effectively lead self to lead others within today's changing global business dynamics
Personal/Professional effectiveness in preparing for a life of service and working for the success of others
Selected Works:
"Service and the Millennial Business Student: The Motivating Influence of an E-Book Class Project", American Journal of Business Education, Jan. 2017.
"Digital Pedagogy the Millennial Way: E-Book as a Course Project," Arnold, W.W. (Leader), 2017 International Conference on Education, San Diego.
"Digital pedagogy the millennials' way: E-book as a course project", Journal of Instructional Pedagogy (November 2016).