Meet the Faculty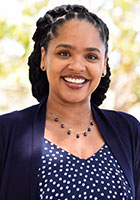 Roslyn M. Satchel
Assistant Professor of Communication
Division: Communication Division
Office: Center for Communication and Business (CCB) 258
Phone: 310-506-7531
Fax: 310-456-3083
E-mail: Roslyn.Satchel@pepperdine.edu

Ph.D. Media & Public Affairs, Louisiana State University, 2013
J.D. Law, Emory University, 2000
M.Div. Theology, Emory University, 2000
B.A. Mass Communication, Howard University, 1995
Courses:
Public Relations Writing
Communication Ethics
Public Relations Strategies & Tactics
Research Methods
Cultural Competence
History of Human Rights Movements in the U.S.
Human Rights in Policy Advocacy & Community Organizing
Key Awards/Affiliations:
Member, Public Relations Society of America
Member, National Communication Association
Member, Association for Education in Journalism & Mass Communication
Member, Kappa Tau Alpha National Honor Society
Fellowship Award, Southern Regional Education Board and Louisiana Board of Regents
Honoree, Emerging Voices Award, Spelman College's WISDOM Center
Honoree, National Association of Black Social Workers
Honoree, EBONY Magazine's "30 Young Leaders of the Future"
Honoree, Herman Dooyewerd Prize in Law & Religion, Emory University School of Law
Honoree, National Crime Prevention Council's 50 Strategies for Faith and Justice Collaboration
Honoree, Institute for Women's Policy Research's Called to Speak: Women, Religion & Advocacy
Honoree, Institute for Women's Policy Research's The Ties That Bind: Women's Public Vision for Politics, Religion & Civil Society
Academic Interests:
Communication, Culture & Human Rights
Democracy & Media Diversity
Intersectionality in Media, Religion, and Law
Public Relations & Public Affairs
Selected Works:
Satchel, R. M. (Under Review). Celebrated Images of Blackness: A content analysis of African American Oscar award-winning roles in the twentieth century.
Satchel, R. M. (Under Review). Creating Xenophobia, Threatening Democracy: "Native" Imagery in the Ten Commandments, Raiders of the Lost Ark, and Avatar.
Satchel, R. M. (2013). Burn, Boil & Eat: An intersectional analysis of stereotypes in the most influential films of all time. Baton Rouge: Louisiana State University. Retreived from http://etd.lsu.edu/docs/available/etd-06272013-205033/unrestricted/Satchel_diss2013.pdf
Satchel, R. M. and Augustine, J. (2012). Religion, Race, & the Fourth Estate: Xenophobia in the Media Ten Years After 9/11, "Tennessee Journal of Race, Gender, & Social Justice": Vol. 1: Iss. 1, Article 3. http://trace.tennessee.edu/rgsj/vol1/iss1/3/.
Selected Links: