Meet the Faculty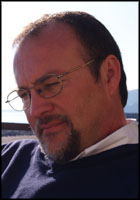 Robert E. Williams, Jr.
Divisional Dean, Social Science Division
Professor of Political Science
Division: Social Science Division
Office: Appleby Center (APC) 201C
Phone: (310) 506-4175
E-mail: robert.williams@pepperdine.edu

Ph.D., Foreign Affairs, University of Virginia, 1987
M.A., International Relations, Johns Hopkins University, School of Advanced International Studies, 1982
B.A., History, Abilene Christian University, 1980, Summa Cum Laude
Courses:
International Relations
International Organizations and Law
Ethics and International Politics
Social Action and Justice Colloquium
Key Awards/Affiliations:
Board of Directors, El Rescate Legal Services, 1998-2003, 2005-2008
Board of Directors, International Monitor Institute, 2000-2002
Hubert H. Humphrey Fellowship in Arms Control and Disarmament, U.S. Arms Control and Disarmament Agency, 1986-1987
Governing Council, International Studies Association, 2011-2012.
Academic Interests:
Human Rights
Normative Theory in International Relations
Security Studies
Selected Works:
Seeking Security in an Insecure World, 3rd ed. (Lanham, Md.: Rowman & Littlefield, 2016), with Dan Caldwell.
"Jus post Bellum: Justice in the Aftermath of War," in The Future of Just War: New Critical Essays, ed. Caron E. Gentry and Amy E. Eckert (Athens: University of Georgia Press, 2014), 167-79.
Arms Control: History, Theory, Policy (Santa Barbara, Calif.: ABC-Clio, 2012), general editor (with Paul R. Viotti).
"From Malabo to Malibu: The Consequences of Corruption in an African Petrostate," Human Rights Quarterly, 33 (August 2011): 620-48.
"Jus Post Bellum: Just War Theory and the Principles of Just Peace," International Studies Perspectives 7 (November 2006): 309-320, with Dan Caldwell.
"The Impact of Feminist Thought on Human Rights," Global Society 11 (January 1997): 111-28.
"Arms Control and Disarmament in the Nuclear Age." in Community, Diversity, and a New World Order: Essays in Honor of Inis L. Claude, Jr., ed. Kenneth W. Thompson (Lanham, Md.: University Press of America for The Miller Center, 1994), 145-66.
"Christian Realism and 'The Bomb': Reinhold Niebuhr on the Dilemmas of the Nuclear Age," Journal of Church and State, 28 (Spring 1986): 289-304.