Meet the Faculty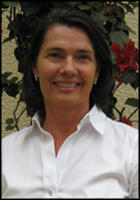 Priscilla Gilliam MacRae
Professor of Sports Medicine
Director of Motor Behavior Laboratory
Division: Natural Science Division
Office: Rockwell Academic Center (RAC) 195
Phone: (310) 506-4162
E-mail: priscilla.macrae@pepperdine.edu

Post-doctoral Fellow, University of Southern California Andrus Gerontology Center, 1985
Ph.D., Exercise Science, University of Texas at Austin, 1984
M.S., Exercise Science, University of Arizona, 1979
B.S., Physical Education/Kinesiology, Pepperdine University, 1978
Courses:
Introduction to the Exercise Sciences (SPME 110)
Human Anatomy (SPME/BIOL 230)
Neuroscience and Motor Control (SPME410)
Research Methods in Sports Medicine and Nutrition (MATH 317)
Motor Learning and Development (SPME250)
Key Awards/Affiliations:
Recognition Award from Southwest Chapter of the American College of Sports Medicine in 2011
Endowed Professorship - Frank R. Seaver Professor of Natural Science
Howard A. White Award for Teaching Excellence
Fellow of the American College of Sports Medicine (FACSM)
Keynote Speaker, V World Congress on Physical Activity, Aging, and Sport
Academic Interests:
Exercise effects on physical and cognitive function
Aging effects on motor control
Exercise training to promote independence, decrease disability and reduce health care costs in older adults
How to optimize motor skill acquisition across the lifespan
Selected Works:
Francis, K.L., MacRae P.G., Spirduso, W.W., & Eakin, T. (2012). The effects of age and practice on precision pinch force control. Current Aging Science, 5 (1), 2-12.
Feltner, M.E & MacRae, P.G. (2011). Time course of changes in novice jumpers' countermovement vertical jump performance. Perceptual and Motor Skills, 112(1), 228-242.
Spirduso, W.W., Francis, K.L. & MacRae, P.G. (2005). Physical Dimensions of Aging, 2nd edition. Champaign, Illinois: Human Kinetics.
MacRae, P.G. (2001). Addressing the physical activity needs of the oldest-old. Healthy and Active Aging, 7, 79-101.