Meet the Faculty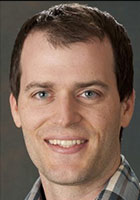 Paul Carruth, Ph.D.
Visiting Assistant Professor of Organizational Behavior
Division: Business Administration Division
Office: Center for Communication and Business (CCB) 314
Phone: (310) 506- 7704
E-mail: paul.carruth@pepperdine.edu

Paul Carruth received his Ph.D. from The Ohio State University and was a visiting scholar at IAE Business School before coming to Pepperdine. His research explores how individuals, organizations, and regions navigate order and disruption.