Meet the Faculty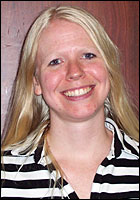 Loretta Hunnicutt
Associate Professor of History
Division: Humanities/Teacher Education Division
Office: Cultural Arts Center (CAC) 311
Phone: (310) 506-4232
Fax: (310) 506-7307
E-mail: loretta.hunnicutt@pepperdine.edu

Ph.D., American History, Georgetown University, Washington, DC, 1998
M.A., History, Pepperdine University, 1994
B.A., History, Pepperdine University, 1992
Key Awards/Affiliations:
Phi Alpha Theta, Vice-President of Pepperdine Chapter 1993-94
Phi Alpha Theta, Faculty Advisor for Abilene Christian University Chapter 2000-present
Association for Asian Studies
Disciples of Christ Historical Society, Member Editorial Committee of Discipliana 2000-present
Southern Association of Women Historians
Ketcherside Scholarship for young Stone-Campbell Movement Scholars, 2000
Faculty Scholarship Award, Abilene Christian University, 1999
Phi Alpha Theta, Graduate Representative for Georgetown Chapter 1996-97
Academic Interests:
History of Women in the U.S.
Modern Japan
U.S. Colonial/Revolutionary History
U.S. Early National Period
U.S. Social/Intellectual History
Selected Works:
Women in the Disciples of Christ/Christian Church Tradition in Encyclopedia of Women and Religion in North America, Indiana University Press, Forthcoming.
Selina H. Campbell, in Encyclopedia of the Stone-Campbell Movement, Doug Foster, Paul Blowers, and Tony Dunnavant editors, forthcoming.
Community Development and the Role of the Vernal Express in the Uintah Basin [Utah] Outlaw Trail Journal: Winter 1996.
The Life of Selina Campbell: A Fellow Soldier in the Cause of Restoration (University of Alabama Press, April 2001).