Meet the Faculty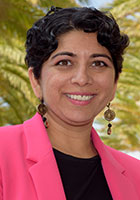 Komal Shah Kapoor, Ph.D.
Assistant Visiting Professor of Public Relations
Division: Communication Division
Office: Center for Communication and Business (CCB) 260
Phone: (310) 506-7537
E-mail: komal.kapoor@pepperdine.edu

Interdisciplinary Ph.D. in Speech Communication, Marketing, and Anthropology, Wayne State University, 2007
M.A., Organizational Communication and Public Relations, Wayne State University, 2002
Dr. Kapoor earned her Ph.D. in speech communication, anthropology, and marketing and her M.A, in organizational communication and public relations from Wayne State University. She has over ten years of national and international corporate experience in public relations, qualitative consumer research, brand strategy, healthcare market research, and entrepreneurship. Dr. Kapoor has taught Introduction to Public Relations, Public Relations Strategies and Tactics, Introduction to Intercultural Communication, Speech Communication, Business and Managerial Communication, and Qualitative Research Methods.
Key Awards/Affiliations:
Fellow, Mudra Institute of Communication, 2005
Member, Public Relations Society of America
Pepperdine Faculty Advisor, Public Relations Student Society of America
Pepperdine Faculty Advisor, Waves Effect
Academic Interests:
Communication of diasporic cultural identity across generations
Emerging market glocalization
Reputation and identity management
Selected Works:
Passing on the Culture in the Diaspora: Inter-Generational Communication of Cultural Identity Amongst Gujaratis in the USA, 2007