Meet the Faculty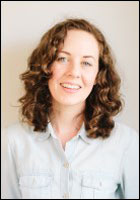 Katie Frye
Visiting Assistant Professor of English
Division: Humanities/Teacher Education Division
Office: Cultural Arts Center (CAC) 310
Phone: 310-506-4271
E-mail: katherine.frye@pepperdine.edu

Ph.D. English, University of California at Santa Barbara
M.A. English, University of California at Santa Barbara
B.A. English, Lipscomb University
Courses:
English Composition
First-Year Seminar: Inventing Modern Childhood
Western Heritage III
Key Awards/Affiliations:
Brett J. Love Award for Teaching Excellence, Pepperdine University, 2014
Modern Language Association
Pearl Butler Evans Award in Graduate Writing, 2006 and 2005
UCSB Interdisciplinary Humanities Center Pre-doctoral Fellowship, 2004
UCSB Affiliates Graduate Dissertation Fellowship, 2003
Academic Interests:
American Literature from 1865
Kate Chopin
Representations of Motherhood
The Southern Grotesque
U.S. Race and Ethnicity Studies
Women's Studies
Selected Works:
"Now, Virginia" (short story), published in Literary Mama, September 2010.
"The Case against Whiteness in William Wells Brown's Clotel," published in Mississippi Quarterly, Summer-Fall 2009.
"Edna Pontellier, Adèle Ratignolle, and the Unnamed Nurse: a Triptych of Maternity in The Awakening," published in Southern Studies: An Interdisciplinary Journal of the South, Fall/Winter 2006.
Review. Nancy Culpepper. Bobbie Ann Mason (New York: Random House, 2006). Yemassee, Fall 2006.