Meet the Faculty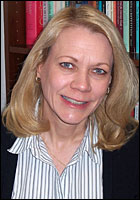 Julianne Smith
Professor of English
Division: Humanities/Teacher Education Division
Office: Cultural Arts Center (CAC) 208
Phone: (310) 506-4625
E-mail: julianne.smith@pepperdine.edu

Ph.D., Texas Christian University, 1999
M.A., Abilene Christian University, 1985
B.A., Abilene Christian University, 1981
Courses:
Victorian Novel
Victorian Poetry
Modern Drama
Poetry & Poetics
Arthurian Literature
World Literature
Survey of British Literature
Research & Writing in the English Major
Key Awards/Affiliations:
Modern Language Association
North American Victorian Studies Association
19CTC (The Nineteenth-Century Theatre Caucus)
Research Society for Victorian Periodicals
Victorian Interdisciplinary Studies Association of the Western United States
National Council of Teachers of English
Innovative Teaching Award, Center for Teaching & Learning, Pepperdine University, 2004
Dean's Research Grant, Pepperdine University, 2014-2018
Academic Interests:
19th-Century Religious & Visual Rhetoric
Gender & Religion
Representation in Victorian Art
Victorian Theatre
Victorian Women Writers
Selected Works:
(Forthcoming) "Framing and Staging Hands (and Feet) in Bleak House." The Embodied Hand: Nineteenth-Century Manual Culture, edited by Peter Capuano and Sue Zemka, Ohio State UP, 2019.
(Forthcoming) "The Devil and Miss Corelli: The Sorrows of Satan." Marie Corelli: Woman, Warrior, Writer, edited by Brenda Ayres and Sarah Maier, Anthem Press, 2019.
"Teaching the 'Forgotten' Genre: Victorian Drama." Teaching Victorian Literature in the 21st Century: A Guide to Pedagogy. Eds. Jen Cadwallader & Larry Mazzeno. Palgrave Macmillian, 2017. 167-79.
"J.P. Burnett's Bleak House: A Drama in Three Acts." Streaky Bacon: A Guide to Victorian Adaptations. Eds. P.C. Fleming et al 4 February 2016
"Bleak House on London's East End Stage, 1853: George Dibdin Pitt and Dickens at the Royal Pavilion Theatre." Nineteenth-Century Theatre & Film 42.1 (2014): 2-20.
"Victorian Drama in the 1850s and the Transformation of Literary Consciousness." Victorian Transformations. Ed. Bianca Tredennick. Farnham, U.K.: Ashgate, 2011. 79-94.