Meet the Faculty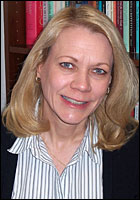 Julianne Smith
Professor of English
Division: Humanities/Teacher Education Division
Office: Cultural Arts Center (CAC) 208
Phone: (310) 506-4625
E-mail: julianne.smith@pepperdine.edu

Ph.D., Texas Christian University, 1999
M.A., Abilene Christian University, 1985
B.A., Abilene Christian University, 1981
Courses:
Victorian Novel
Victorian Poetry
Modern Drama
Poetry & Poetics
Arthurian Literature
World Literature
Survey of British Literature
Research & Writing in the English Major
Key Awards/Affiliations:
Modern Language Association
Coalition of Women Scholars in the History of Rhetoric
Research Society for Victorian Periodicals
Victorian Interdisciplinary Studies Association of the Western United States
National Council of Teachers of English
Innovative Teaching Award, Center for Teaching & Learning, Pepperdine University, 2004
Dean's Research Grant, Pepperdine University, 2004-2005
Dean's Research Grant, Pepperdine University, 2003-2004
Academic Interests:
19th-Century Religious & Visual Rhetoric
Gender & Religion
Representation in Victorian Art
Victorian Theatre
Victorian Women Writers
Selected Works:
"Victorian Drama in the 1850s and the Transformation of Literary Consciousness." Victorian Transformations. Ed. Bianca Tredennick. Farnham, U.K.: Ashgate, (forthcoming).
"John Maddison Morton." Dictionary of Literary Biography: Nineteenth-Century British Dramatists. Vol. 344. Ed. Angela Courtney. Detroit: Gale, 2009. 250-60.
"A Victorian Study Abroad Course for Undergraduates." Victorian Review 34.2 (2008): 63-69.
"Victorian Drama and Undergraduate Periodical Research." Victorian Periodicals Review 39.4 (Winter 2006): 357-364.
"Private Practice: Thomas De Quincey, Margaret Oliphant and the Construction of Women's Rhetoric in the Victorian Periodical Press," Rhetoric Review 23.1 (2004): 40-56.
"A Noble Type of Good Heroic Womanhood": The Popular Rhetoric of Florence Nightingale's Enshrinement. Nineteenth-Century Prose 26 (Spring 1999): 59-80.