Meet the Faculty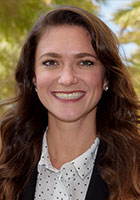 Julia R. Norgaard, Ph.D.
Assistant Professor of Economics
Division: Social Science Division
Office: Appleby Center (APC) AC 238
Phone: (310) 506-4580
E-mail: julia.norgaard@pepperdine.edu

Ph.D., George Mason University, 2017
M.A. in Economics, George Mason University, 2015
B.A. in Economics, The University of San Diego, 2012
Julia R. Norgaard received her Ph.D. from George Mason University where she was a Ph.D. fellow at the Mercatus Center and a graduate lecturer. In 2015, she received her master's degree in economics from George Mason University. Dr. Norgaard received her B.A. in economics with a minor in mathematics from the University of San Diego in 2012. Her interests include applied microeconomics and political economy as well as law and economics and development. She has passion for both research and teaching economics.
Courses:
ECON 321 Intermediate Macroeconomics
ECON 320 Intermediate Macroeconomics
ECON 492 Economic Development
ECON 492 Game Theory
Key Awards/Affiliations:
Michael and Andrea Leven Family Foundation Fellow, 2017
Mercatus Center Ph.D. Fellowship, 2017
Humane Studies Fellowship, 2017
Academic Interests:
Applied Microeconomics
Economic Development
Law and Economics
Political Economy
Selected Works:
Selected Links: