Meet the Faculty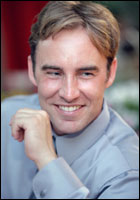 John Peterson
Assistant Professor of English
Division: Humanities/Teacher Education Division
Office: Cultural Arts Center (CAC) 305
Phone: (310) 506-7936
Fax: (310) 506-7307
E-mail: john.peterson@pepperdine.edu

Ph.D. English, Claremont Graduate University
M.A. Literature and Creative Writing, Claremont Graduate University
B.A. English, The University of Arizona
Courses:
Social Action and Justice
Environmental Literature
Native American Literature
American Poetry
Key Awards/Affiliations:
Brett J. Love Award for Teaching Excellence, Pepperdine University, 2009
Claremont University Fellowship, 2001-2002
Association for the Study of Literature and the Environment
Western Literature Association
Modern Language Association
Academic Interests:
Climate Justice
Creative Writing, Poetry
Environmental Literature
Selected Works:
"Re-imagining the Los Angeles River." The Brock Review. 11.2 (2011): 111-120.
Re-envisioning the City: A Narrative Analysis of Urban Nature Writing and the Los Angeles River. (dissertation) 2009
"The Bear." (poem) Meridian Anthology of Contemporary Poetry. VII (2014)
"The Canyon." (poem) Westview. 30.2 (2014)
"The La Brea Tar Pits." (poem) Atlanta Review. XVIII.2 (2012)
"Vincent's Worker." (poem) The Griffen. (Fall 2009)
"Freedom Song." (poem) River Oak Review. 2 (2009): 38.
"Memories of the War." (poem) The Louisville Review. 64 (2008): 42.