Meet the Faculty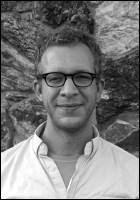 Jeffrey Schultz
Visiting Assistant Professor of Creative Writing
Interim Director of Creative Writing (2014-15)
Division: Humanities/Teacher Education Division
Office: Thornton Administrative Center (TAC) 142
Phone: 3105064189
E-mail: jeffrey.schultz@pepperdine.edu

BA, English, California State University, Fresno, 2001
MFA, Creative Writing, University of Oregon, 2003
Courses:
Advanced Poetry Workshop
Intermediate Creative Writing
Beginning Creative Writing
English Composition
Key Awards/Affiliations:
National Poetry Series Selection, 2013
Brett J. Love Award for Teaching Excellence, Pepperdine University, 2012
Ruth Lilly Poetry Fellowship, Poetry Foundation, 2009
"Discovery"/Boston Review Poetry Prize, Boston Review/Unterberg Poetry Center/92nd Street Y, 2009
Academic Interests:
Aesthetic theory
Elegy
Frankfurt School critical theory
Modern and contemporary poetry and poetics
Selected Works:
What Ridiculous Things We Could Ask of Each Other: Poems. University of Georgia Press, 2014
"J. Listens to Line Static on the Last Pay Phone in the Continental U.S." Miramar, 2014 .
"To the Unexploded H-Bomb Lost in Tidal Mud off the Coast of Savannah, GA." Miramar, 2014.
"Offering of Two Burning Calves." Southern Indiana Review, Fall 2013.
"The Soul as a Kind of Life I Sort of Lived Once." Anti-, 2013.
"Inner City Circular Saw Cosmology Blues." Anti-, 2013.
"Apocalypse When?" Solo Novo, forthcoming 2013.
"The Soul as Rooms for Rent." 32 Poems, 10.2, Fall, 2012.
"Permanent Collection." Prairie Schooner, 86.1, Spring, 2012.
"The Mourner's Fare." Prairie Schooner, 86.1, Spring, 2012.
"The Soul as Social Service Caseworker." Boxcar Poetry Review, 28, Summer 2011.
"The Soul as Kaczynski." Copper Nickel, 16, Fall 2011.
"The Soul as Episode in the Supermarket." Copper Nickel, 16, Fall 2011.
"Our Lady of the Electrical Substation." Linebreak, December 28th, 2010.
"Old News and the Borrowed Blues." Indiana Review, 32.2, 2010.
"As if Someone Were Trying to Tell Us Something." Grist, 3.1, 2010.
"J. Finds in His Pockets Neither Change nor Small Bills." Poetry, November 2009.
"The Gathering Blues." Missouri Review, Fall 2009.
"J. Resists the Urge to Comment on Your Blog." Missouri Review, Fall 2009.
"These Arms of Mine." Northwest Review, Fall 2009.
"J. Begins by Saying The World's Not as It Should Be." Art Beat, PBS NewsHour Online. May 18-May 24, 2009.
"J. Steals from the Rich and Uses the Money to Get Drunk Again." Boston Review, May/June 2009.
"J. Learns the Difference Between Poverty and Having No Money." Poetry, February 2008.
"Weekday Apocalyptic." Poetry Northwest, Spring / Summer 2007.
"The Day Before the Revolution." Solo Cafe #2, Fall 2006.
"Power Outage, Fresno, California, August 10th, 1996." Great River Review #45, Fall 2006.
"Sunset at the Meat Packing Plant with Shoes Slung over an Electrical Wire." Willow Springs #57, Spring 2006.
Performances:
Pepperdine University Humanities and Teacher Education Symposium "Seriously Childish"
Pepperdine University
Malibu, CA 2014
Critical Pedagogy & the Creative Writing Workshop Conference "Cliché as Reification: Introducing the Method of a Radical Criticality in the Undergraduate Creative Writing Classroom"
Manhattanville College
Purchase, NY 2013
Associated Writers & Writing Programs Conference (AWP) "'Just a way of joining one thing to another,' Larry Levis and Teaching Metonymy in the Creative Writing Classroom"
"A blueprint of something never finished": Larry Levis in the Classroom Panel Boston, MA 2013
Christian Scholars Conference, Pepperdine University "Our Daily Disaffirmation: Poetry and the Preservation of Negative Thinking"
Poetry in the Age of Science Panel
Malibu, CA 2011
Associated Writers & Writing Programs Conference (AWP) "The Poem Doesn't Want: Refocusing on the Poet as Agent in the Process of Making"
Pedagogy Forum Presentation
Washington, D.C. 2011