Meet the Faculty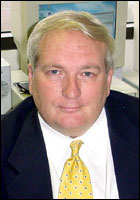 James W. Thomas
Professor of English
Division: Humanities/Teacher Education Division
Office: Cultural Arts Center (CAC) 314
Phone: (310) 506-4222
E-mail: james.thomas@pepperdine.edu

Ph.D.. English; Minor: Philosophy, University of Tennessee
M.A., English, University of Tennessee
B.A., English; Minor: Chemistry, Lipscomb University
Courses:
Harry Potter
Contemporary American Poetry
The American Short Story
Faulkner
Edgar Allan Poe
Southern Literary Renaissance
Key Awards/Affiliations:
Modern Language Association
Conference on Christianity and Literature
Analyst and on-camera commentator for "O. Henry: A Life in Stories," a film from Monterey Media, directed by Scott Mansfield.
Listed in Who's Who in the West
Pepperdine University Sabbatical, 1995
Harriet and Charles Luckman Distinguished Teaching Fellow, 1993-98
Landiss Memorial Lecturer, 1992
Director of M.A. Program in American Studies, Keck Institute, 1991-94
Faculty Athletics Representative to the NCAA, 1987-94
Academic Interests:
Faulkner, J.K. Rowling, Poetry and Poetics, Toni Morrison
Selected Works:
"Rowling's Literary Influences in the Potter Series: Creating Imaginative Empathy Through Allusions and Echoes." Presented at A Brand of Fictional Magic: A Harry Potter Conference, University of St. Andrews, St. Andrews, Scotland, May 2012.
"Muggle Studies 101: Metaphorical Possibilities of Being Magic or Muggle," in Harry Potter for Nerds: Essays for Fans, Academics, and Lit Geeks, ed. Travis Prinzi. Oklahoma City: Unlocking Press, 2011.
"Rowling's Post-Potter Prose Poem: An Analysis of The Tales of Beedle the Bard." Presented at DiaCon Harry Potter Conference, University of Kent, Canterbury, England, July 2011.
"Saxon, Lyle" and "Bradford, Roark" entries in Know LA: Encyclopedia of Louisiana History, Culture and Community. Online from Louisiana Endowment for the Humanities, 2010.
Rowling Revisited. Hamden, CT: Zossima Press, 2010.
Harry Potter Smart Talk (with Travis Prinzi and John Granger, ed.). Constantia, NY: Unlocking Press, 2010.
"J. K. Rowling's Real Mystery: Harry Potter's Journey From 'Interesting Uncertainty' to 'Incomprehensible Certainty.'" Presented at the Conference on Christianity and Literature, Pace University, New York, New York, March 2010.
"Repotting Harry Potter: Popular Lit Made Legit," in Hog's Head Conversations: Essays on Harry Potter, ed. Travis Prinzi. Allentown, PA: Zossima Press, 2009.
Repotting Harry Potter: A Professor's Book-by-Book Guide for the Serious Re-Reader. Allentown, PA: Zossima Press, 2009.
"War in the House of Peace: Inversions and Reversals in Morrison's Sula," in Making Peace in Our Time, ed. Joan F. Hallisey and Mary-Anne Vetterling. Weston, MA: Peace Press, 2008.
"The Omegas in the Alphas: Rowling's Dazzling Use of Foreshadowing." Presented at Terminus Harry Potter Conference, Chicago, 2008.
"Hogwarts by the Pacific: Harry Goes to College on the West Coast." Presented at Prophecy Harry Potter Conference, Toronto, 2007.
"A Broader Perspective." In College Faith 3: 150 Christian Leaders and Educators Share Faith Stories from Their Student Days, ed. Ronald Alan Knott. Berrein Springs, Michigan: Andrews University Press, 2006. Pp. 22-23.
"Lyle Saxon's Struggle With Children of Strangers." In Louisiana Literature and Literary Figures, Volume XVII, Louisiana Purchase Bicentennial Series in Louisiana History, ed. Mathe Allain. Lafayette: Center for Louisiana Studies, 2004.
Review of Down by the Lemonade Springs and Looking for Steinbeck's Ghost, by Jackson Benson. Pacific Coast Philology 37(2002): 129-34.
"Ten Commandments for University Professors," in The Heart and Soul of Business, by Perry C. Cotham. Franklin, TN: Providence House, 1998.
Lyle Saxon: A Critical Biography. Southern Writers Series. Birmingham: Summa Publications, Inc., 1991.