Meet the Faculty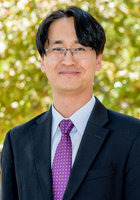 Dongkuk Lim, Ph.D.
Assistant Professor of Accounting
Division: Business Administration Division
Office: Center for Communication and Business (CCB) 361
Phone: (310) 506-4662
E-mail: dongkuk.lim@pepperdine.edu

Ph.D., University of Texas at Dallas, 2011
MPA, Cornell University, 2004
B.S., Cornell University, 2002
Courses:
Financial Accounting
Intermediate Accounting I
Intermediate Accounting II
Accounting for Nonbusiness Organizations
Selected Works:
Lim, D., Son, D.H. (in press). Qualitative Disclosure and Information Users' Behaviors in the Oil and Gas Industry. The Oil, Gas, & Energy Quarterly.
Son, D.H., Lim, D. (2017). Achieving Revenue Benchmarks Conditional on Growth Properties. Sustainability.
Lim, D., Kloss, T. (2016). The Relationship Between Private Education and Financial Reward- A Pilot Study Case of Private Music Lessons and College Scholarship. Praxis.
Muslu, V., Radhakrishnan, S., Subramanyam, K.R., Lim, D. (2015). Forward-Looking Disclosures in the MD&A and the Financial Information Environment. Management Science 61(5), 931-948.
Lim, D., Zheng, K. (2014). Conditional Conservatism of Aggregate Accounting Earnings. Accounting and Finance Research, 3(4), 115-131.