Meet the Faculty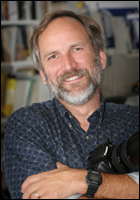 David B. Green
Professor of Chemistry
Division: Natural Science Division
Office: Rockwell Academic Center (RAC) 128
Phone: (310) 506-4355
E-mail: david.green@pepperdine.edu

Ph.D. Analytical Chemistry, of California, Riverside, 1985
B.S. Chemistry, Abilene Christian University, 1980
Courses:
General Chemistry
Analytical Chemistry
Instrumental Methods
Electronics and Instrument Design
Astronomy
Key Awards/Affiliations:
American Chemical Society
International Union of Pure and Applied Chemistry
Academic Interests:
Chemistry Education
Destruction of Organic Dyes
Marine Environmental Chemistry
Pure and Applied Analytical Chemistry
Selected Works:
Van Atta, Sky L.; Duclos, Brian A.; Green, David B. "Microwave- Assisted Synthesis of of Group(6) (Cr, Mo, W) Zero-Valent Organometallic Carbonyl Compounds", Organometallics, 2000, 19, 2397-2399.
Youngman, Matthew J.; Green, David B. "Microwave-Assisted Extraction of C60 and C70 from Fullerene Soot", Talanta – International Journal of Pure and Applied Analytical Chemistry, Talanta, 1999, 48, 1203-1206.
Bishop, Jamie J.; Vandergon, Thomas L.; Green, David B.; Doeller, Jeannette E.; Kraus, David W. "A High Affinity Hemoglobin is Expressed in the Notochord of Amphioxus, Brachiostoma californiense", The Biological Bulletin, 1998, 195, 255-259.
Green, David B.; Rechtsteiner, Gregory; Honodel, Amy "Determination of the Thermodynamic Solubility Product, K°sp, of PbI2 Assuming Nonideal Behavior: An Analytical Chemistry Experiment", Journal of Chemical Education, 1996, 73, 789-792.
Kinkennon, Amy E.; Green, David B., Hutchinson, Ben "Photocatalytic Destruction of Herbicides Using Titanium Dioxide and Concentrated Solar Energy", Chemosphere, 1995, 31, 3663-3671.
Selected Links: