Meet the Faculty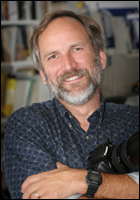 David B. Green
Professor of Chemistry
Division: Natural Science Division
Office: Rockwell Academic Center (RAC) 128
Phone: (310) 506-4355
E-mail: david.green@pepperdine.edu

Ph.D. Analytical Chemistry, of California, Riverside, 1985
B.S. Chemistry, Abilene Christian University, 1980
Courses:
General Chemistry (CHEM 120,121)
Analytical Chemistry (CHEM 340)
Instrumental Methods (CHEM 341)
Advanced Analytical Chemistry (CHEM 440)
Electronics and Instrument Design
Astronomy (NASC 109)
Key Awards/Affiliations:
Frank R. Seaver Professor
American Chemical Society
International Union of Pure and Applied Chemistry
Academic Interests:
Chemical Ecology of the Santa Monica Mountains watershed
Chemistry Education
Pure and Applied Analytical Chemistry
Selected Works:
Helm, Susan; Blayne, Morgan; Whited, Taylor; Noroozi, Mahjabin; Lin, Sen; Kern, Semira; Green, David; Salehi, Ahmad. "Deleterious Effects of Chronic Folate Deficiency in the Ts65Dn Mouse Model of Down Syndrome", Frontiers in Cellular Neuroscience, 2017, 11:161, 1-9.
Bucciarelli, Gary M.; Shaffer, H. Bradley; Green, David B.; Kats, Lee B. "An Amphibian Chemical Defense Phenotype is Inducible Across Life History Stages", Nature: Scientific Reports 2017, 7:8185.
Bucciarelli, Gary M.; Green, David B; Shaffer, H. Bradley; Kats, Lee B. "Temporal Variation of an Amphibian's Chemical Defense Toxin Affects Breeding Site Behavior of Conspecifics", Proceedings of the Royal Society B, 2016,283.
Min, Jane Eun; Green; Loan Kim. :Calories and Sugars in Boba Milk Tea: Implications for Obesity Risk in Asian Pacific Islanders", Food Science & Nutrition, 2016, 4(2), 1-8 (DOI: 10.1002/fsn3.362).
Bucciarelli, Gary M.; Li, Amy; Kats, Lee B.; Green, David B.; "Quantify Tetrodotoxin Levels in the California Newt Using a Non-Destructive Sampling Method", Toxicon 2014, 80,87-93.
Brerton, Kelsey R.; Green, David B. "Isolation of Saccharides in Dairy and Soy Products by Solid-Phase Extraction Coupled with Analysis by Ligand-Exchange Chromatography", Talanta 2012, 100, 384-390 (DOI 10.1016/j.talanata.2012.08.003).
Selected Links: