Meet the Faculty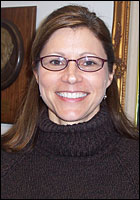 Darlene S. Rivas
Professor of History and Latin American Studies
Division: Humanities/Teacher Education Division
Office: Cultural Arts Center (CAC) 207
Phone: (310) 506-4025
E-mail: darlene.rivas@pepperdine.edu

Ph.D., United States and Latin American History, Vanderbilt University, 1996
M.A., History, Sam Houston University, 1990
B.S., American Studies, Harding University, 1982
Courses:
History of the American Peoples
Foreign Relations of the United States in the Twentieth Century
United States, 1920-1952
United States Since 1952
Mexico and the Borderlands
Colonial Latin America
Modern Latin America
Historiography
Key Awards/Affiliations:
Fulbright Senior Specialist, 2007
Seaver Research Council Grant, 2004-2005
Seaver Fellow, 1999-2000, 2000-2001
W. Stull Holt Dissertation Fellowship, Society for Historians of American Foreign Relations (SHAFR), 1993
Society of Historians of American Foreign Relations, (SHAFR)
Latin American Studies Association
American Historical Association
Academic Interests:
Latin American history
United States foreign relations
United States in the twentieth century
Selected Works:
"Patriotism and Petroleum: Anti-Americanism in Venezuela from Gomez to Chavez." In Alan McPherson, Ed., Anti-Americanism in Latin America and the Caribbean: Politics and Culture, Past and Present. Berghahn Books, March, 2005
U.S. Relations with Latin America, 1942-1960. In Robert Schulzinger, Ed. A Companion to American Foreign Relations. Blackwell Publishers, 2003.
Missionary Capitalist: Nelson Rockefeller in Venezuela. University of North Carolina Press, 2002.
Humanitarian Intervention and Relief. In Alexander DeConde, Richard Dean Burns, and Fredrick Logevall, Eds. Encyclopedia of American Foreign Policy. 2nd Edition. Charles Scribner's Sons, 2002.
Boxing with Joe Louis: Nelson Rockefeller in Venezuela. In Peter L. Hahn and Ann Heiss, Eds. Empire and Revolution: The United States and the Third World Since 1945. Ohio State University Press, 2001.