Meet the Faculty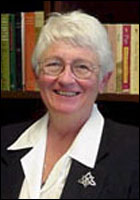 Constance M. Fulmer
Professor of English
Blanche E. Seaver Chair in English Literature
Division: Humanities/Teacher Education Division
Office: Thornton Administrative Center (TAC) 322 A
Phone: (310) 506-4235
Fax: (310) 506-7307
E-mail: constance.fulmer@pepperdine.edu

Ph.D., English, Vanderbilt University, 1970
M.A., English, Vanderbilt University, 1965
M.A., Mathematics, University of Alabama, 1962
M.A., Education, Harding University, 1960
B.A., Psychology, Lipscomb University, 1958
Courses:
Survey of British Literature
Modern Drama
Victorian Literature
First-year Seminar: Women of the Bible
Key Awards/Affiliations:
President, Victorian Interdisciplinary Studies Association of the Western United States
18th and 19th Century British Women Writers Association
George Eliot Fellowship
Modern Language Association
Women's Studies Association
Southern California Faculty Developers' Learning Community
Professional and Organizational Development Network
Academic Interests:
British Literature
Edith Simcox
Faculty Development
George Eliot
Women's Studies
Selected Works:
"Edith Simcox (1844-1901): Eminent Victorian." Victorian Review 37.1 (Spring 2011): 30- 33.
"Sacramental Suffering and the Waters of Redemption and Transformation in George Eliot's Fiction." Through a Glass Darkly: Suffering, the Sacred, and the Sublime in Literature and Theory, ed. Holly Faith Nelson, 2010. Requested following the presentation of a paper at the Conference on Christianity and Literature, Trinity Western University, Vancouver, British Columbia, May 2007.
"Edith Simcox, the Good Morris, and Working Class Women," William Morris Society in the United States Newsletter, Summer 2008, 18-21.
A Monument to the Memory of George Eliot: Edith J. Simcox's Autobiography of a Shirtmaker. New York and London: Garland, 1998. Edited with Margaret E. Barfield.
George Eliot: A Reference Guide. Boston: G.K. Hall, 1977. An annotated bibliography with more than 2,000 entries.
Bessie Rayner Parkes (Madame Belloc). Dictionary of Literary Biography: Late Nineteenth and Early Twentieth Century British Women Poets. Edited by William B. Thesing. Detroit: Gale Group, 2001.
Edith Simcox (1844-1901). Nineteenth-Century British Women Writers: A Bio-Bibliographical Critical Sourcebook. Edited by Abigail Burnham Bloom. Westport, Connecticut: Greenwood Press, 2000.
A Nineteenth-Century 'Womanist' on Gender Issues: Edith Simcox in Her Autobiography of a Shirtmaker, Nineteenth-Century Prose 26.2 (Fall 1999): 110-126.
Edith Simcox: Feminist Critic and Reformer, Victorian Periodicals Review 31.1 (Spring 1998): 105-121.
Performances:
"Renaissance Florence and George Eliot's Romola: Landmarks Associated with Moral Transformation." British Women Writers Conference, Boulder, Colorado, June 2012.
"Edith J. Simcox's Involvement with Women Workers and Their Leisure Time Activities as Recorded in the Women's Union Journal." Research Society for Victorian Periodicals, Canterbury Christ Church University, United Kingdom, July 2011.
"Moral Propriety and Religious Vulgarity in George Eliot's Clerics." Victorian Interdisciplinary Association of the Western United States. Houston, Texas, October 2011.