Meet the Faculty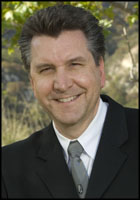 Charles F. Hall
Dean, International Programs
Associate Professor of Sociology
Division: Social Science Division
Office: Tyler Campus Center (TCC) 137
Phone: (310) 506-4532
E-mail: cfhall@pepperdine.edu

Ph.D., Sociology, Purdue University, 1993
M.S., Sociology, Purdue University, 1991
M.R.E., Religious Education, Golden Gate Theological Seminary, 1983
B.A. Religion, Mercer University, 1979
Courses:
Death and Dying
Religion and Society
Family
Social Statistics
Introduction to Sociology
Key Awards/Affiliations:
Professor of the Year (2003), voted by student body at California Lutheran University
President's Excellence in Teaching Award (2001), voted by faculty at California Lutheran University
Professor of the Year (2000), voted by student body at California Lutheran University
Recipient of 1996 Salvatori Fellowship for Academic Leadership, sponsored by the Heritage Foundation
Grant for the Study of Christian Social Activism (1995) by the Calvin College Scholarship Committee
Doctoral Scholar for the Study of Current Issues in American Public Policy (1993) sponsored by the Pew Foundation
Academic Interests:
Experiential Education
International Education
Religious Faith and Higher Education
Search for Meaning and Purpose in Higher Education
Selected Works:
"The Christian Left: Who Are They and How Are They Different From the Christian Right?" In Review of Religious Research (September, 1997)
"Entering the Labor Force: Ideals and Realities Among Evangelical Women" In Work, Family, and Religion in Contemporary Society, edited by Nancy Ammerman and Wade Clark Roof (Routledge, 1995) pp. 135-154.
"Social Policy and Homosexuality" Monograph on Faith and Public Policy, Vol 1, No.5, (supported by a grant from The Pew Charitable Trusts, 1995)
"Vanishing Boundaries: The Religion of Mainline Protestant Baby Boomers" by Dean Hoge, Benton Johnson, and Donald Luidens. Book Review in Journal for the Scientific Study of Religion, (March 1995)
"Employment Division v. Smith" In The Encyclopedia of Contemporary Social Issues, edited by John Roth (Salem Press, 1996).