Meet the Faculty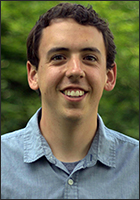 Bryant Crubaugh
Assistant Professor of Sociology
Division: Social Science Division
Office: Appleby Center (APC) 233
Phone: 3105067487
E-mail: bryant.crubaugh@pepperdine.edu

Ph.D., Sociology, University of Notre Dame, 2016
M.A., Sociology, University of Notre Dame, 2012
B.A., Sociology and Bibilical Literature, Taylor University, 2010
Courses:
Introduction to Sociology
Social Movements
Wealth and Poverty in America
Urban Development
Academic Interests:
Civil Society
Inequality
Organizations
Social Change
Social Movements
Urban Sociology
Selected Works:
McVeigh, Rory, Bryant Crubaugh, and Kevin Estep. 2017. "Plausibility Structures, Status Threats, and the Establishment of Anti-Abortion Pregnancy Centers." American Journal of Sociology. 122(5): 1533-1571.
Crubaugh, Bryant. 2017. "Diversity, Poverty, and Resources: The Role of Incentives and Capacity in the Presence of Highly Resourced Neighborhood Associations." Sociological Focus. 50(2): 138-158.
Beyerlein, Kraig, Peter Barwis, Bryant Crubaugh, and Cole Carnesecca. "A New Picture of Protest: The National Study of Protest Events." Sociological Methods and Research.
Selected Links: