Dr. Larycia Hawkins and Linda Midgett
W. David Baird Distinguished Lecture Series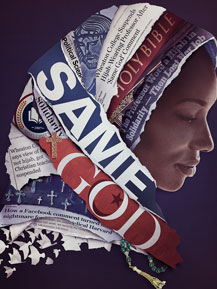 "Same God Screening and Panel Discussion"
Wednesday, March 25, 2020 | 5:00pm, Elkins Auditorium
The health and safety of Pepperdine's community is our highest priority. In response to the COVID-19 outbreak, this event has been canceled.
5 pm Screening of Same God, Winner of Best Documentary, Benton Film Festival Jury Award
6:40 pm Panel Discussion with Dr. Larycia Hawkins and Linda Midgett
Same God, a documentary directed by Wheaton College alumna Linda Midgett, follows the journey of professor and activist Larycia Hawkins. A black professor at Wheaton—a Christian school—Hawkins showed her support for her Muslim sisters by donning a hijab throughout Advent. Her actions initiated an international conversation about the nature of God and the possibilities for multifaith solidarity. The result was a legal separation from the college, a place that was once a stop on the Underground Railroad. The documentary explores the polarization taking place within the evangelical community. Linda Midgett is an independent documentary filmmaker, TV producer, showrunner, and screenwriter with credits on NBC-Universal, History, A&E, Discovery, PBS, National Geographic, and Lifetime Movie Network.