Dr. S. Georgia Nugent
W. David Baird Distinguished Lecture Series
Paradoxes of the Liberal Arts
Thursday October 15, 2015, Elkins Auditorium, 5:00 p.m.
Click to view Dr. Nugent's lecture.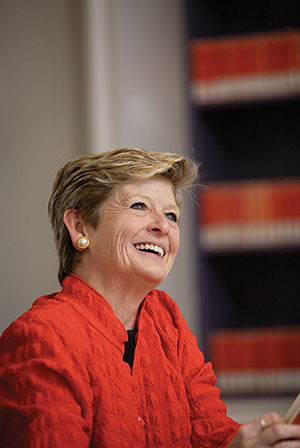 Dr. S. Georgia Nugent is currently serving as the interim president of The College of Wooster in Ohio and president emerita of Kenyon College, where she served for ten years. From 2013-2015, Nugent was the Senior Fellow at The Council of Independent Colleges. In this role, she designed, developed, and oversaw an award-winning multi-media campaign, "Securing America's Future: the Power of Liberal Arts Education," to communicate to the public the value of this uniquely American form of higher education.
Prior to assuming the Kenyon presidency, Nugent held a number of administrative roles at Princeton University, including assistant to the president, associate provost, and the founding dean of the McGraw Center for Teaching and Learning. She has served on the Classics faculties of Princeton, Brown, Cornell, and Swarthmore. She took her doctorate at Cornell University and was a member of the first coeducational undergraduate class at Princeton University.