Rachael Denhollander
W. David Baird Distinguished Lecture Series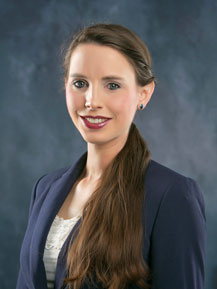 "An Evening with Rachael Denhollander"
Wednesday, November 13, 2019 | 5:00pm, Elkins Auditorium
Rachael Denhollander is an advocate and educator who became known internationally as the first woman to file a police report and speak publicly against Larry Nassar, one of the most prolific sexual abusers in recorded history. As a result of her activism, more than 250 women came forward as survivors of Nassar's abuse, leading to his life imprisonment and the upheaval of both USA Gymnastics and Michigan State University. A committed Christian, Denhollander has been at the forefront of condemning the problem of abuse that often plagues churches and religious organizations while working to address the underlying dynamics. For her advocacy, she has received numerous awards; she was listed among TIME magazine's 100 Most Influential People in the World in 2018. She has appeared on major networks and been featured frequently in print media. Prior to 2016 Denhollander worked in public policy. She holds a JD from Oak Brook College of Law.