Matika Wilbur
W. David Baird Distinguished Lecture Series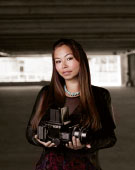 Matika Wilbur: "Changing the Way We See Native America: Dismantling Native American Stereotypes"
Tuesday, March 21, 2017, Elkins Auditorium, 5:00 p.m.
Click here to view Matika Wilbur's full Lecture
Matika Wilbur is one of the Pacific Northwest's leading photographers and is a Native American woman of the Swinomish and Tulalip Tribes (Washington). She is currently working on Project 562, a documentary project dedicated to photographing contemporary Native America. She is gathering original photographic images and oral narratives from all tribal communities throughout the United States, organizing and presenting compelling portraits and stories from elders, culture bearers, linguists, teachers, activists, artists, professionals, and other contemporary Indians. The insight, depth, and passion with which she explores the contemporary Native identity and experience are communicated through the impeccable artistry of each of her silver gelatin photographs. She has exhibited extensively in regional, national, and international venues.