Dr. Lynn Pasquerella
W. David Baird Distinguished Lecture Series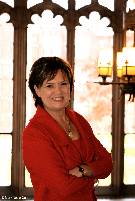 Dr. Lynn Pasquerella: "Educating for Democracy in a Post-Truth Era"
Tuesday, November 7, 2017, Elkins Auditorium, 5:00 p.m.
Lynn Pasquerella has been president of the Association of American Colleges and Universities since July 2016. A philosopher whose career has combined teaching and scholarship with local and global engagement, she has continuously demonstrated a deep and abiding commitment to ensuring that all students have access to excellence in liberal education, regardless of their socioeconomic background.
Pasquerella is a graduate of Quinebaug Valley Community College, Mount Holyoke College, and Brown University. She joined the faculty of the Department of Philosophy at the University of Rhode Island in 1985, rising rapidly through the ranks to the positions of vice provost for research, vice provost for academic affairs, and dean of the graduate school. In 2008, she was named provost of the University of Hartford. In 2010, she was appointed the eighteenth president of Mount Holyoke College. Pasquerella's presidency of Mount Holyoke was marked by a robust strategic planning process; outreach to local, regional, and international constituencies; and a commitment to a vibrant campus community.
Pasquerella has written extensively on medical ethics, metaphysics, public policy, and the philosophy of law. She serves as senator and vice president of Phi Beta Kappa, and as host of Northeast Public Radio's "The Academic Minute."