Flora L. Thornton Distinguished Nutrition Speaker
T. Colin Campbell
"The Time for Nutrition Has Arrived"

Thursday, February 20, 2014
Elkins Auditorium, 5:00 p.m.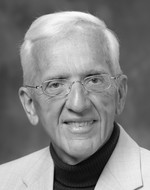 For more than forty years, Dr. T. Colin Campbell has been at the forefront of nutrition research. His legacy, the China Project, is the most comprehensive study of health and nutrition ever conducted. Dr. Campbell is the Jacob Gould Schurman Professor Emeritus of Nutritional Biochemistry at Cornell University. He has authored more than 300 research papers. In addition, he is coauthor with Thomas Campbell, MD, of the bestselling book, The China Study: Startling Implications for Diet, Weight Loss and Long-term Health and wrote the New York Times Bestseller Whole: Rethinking the Science of Nutrition with Howard Jacobson, PhD.