W. David Baird Distinguished Lecture Series: Ellen Gustafson
"A New Understanding of Hunger, Obesity, and the Food System"

Tuesday, February 4, 2014
Elkins Auditorium, 5:00 p.m.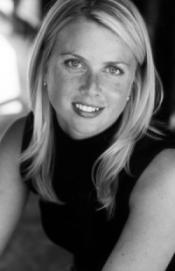 Ellen Gustafson is a sustainable food system activist, innovator and social entrepreneur. She is the Co-Founder of Food Tank: the Food Think Tank, a new organization that is highlighting innovative ideas in agriculture and food systems that help alleviate hunger, obesity and poverty.
Ellen founded the 30 Project and ChangeDinner campaigns, which connected hunger and obesity issues over the dinner table and are now part of Food Tank. She is also the Co-Founder of FEED Projects, LLC, a charitable company that creates consumer products which help FEED the world, and Co-Founder and former Executive Director of FEED's non-profit partner, the FEED Foundation. Under Ellen's leadership, FEED provided more than 65 million school meals to children around the world—at no cost to them. Previously, Ellen was a U.S. Spokesperson for the U.N. World Food Program, a terrorism research reporter in the ABC News Investigative Unit and a research associate for the Military Fellows at the Council on Foreign Relations. She has a BA in International Politics from Columbia University and is pursuing a Master's Degree in Food Studies at New York University. She has been featured, with FEED business partner Lauren Bush, as one of Fortune Magazine's 2009 Most Powerful Women Entrepreneurs, Inc Magazine's 2010 30 Under 30, and has spoken at Fortune's Most Powerful Women's Conference. Amongst her many public speaking accomplishments, Ellen has given multiple TED talks, keynoted to the Italian Parliament, lectured at Harvard, NYU, Columbia University, The U.S. Naval Academy, Feeding America, Davos and many more. She serves on the Columbia University Alumni Board of Directors and is a Term Member of the Council on Foreign Relations. She is also a member of the distinguished Barilla Center For Food and Nutrition's external Global Advisory Board, which seeks to address pressing global issues from climate change to economics and everything in between. Ellen was recently listed in Fast Company as a female trailblazer, based on her pioneering story of building her own structures to accomplish her goals through FEED and the 30 Project. She has been featured as one of AOL and PBS's 2011 list of MAKERS, trailblazing women who are "making" America and to Diplomatic Courier Magazine's 2011 "Top 99 Under 33" in Foreign Policy.