W. David Baird Distinguished Lecture Series: Dr. Sanneh
"Freedom of Religion and Citizenship: Perspectives on World Christianity"

Thursday, January 31, 2013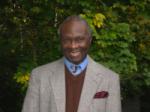 Lamin Sanneh is the D. Willis James Professor of Missions and World Christianity, Professor of History, and Professor of International and Area Studies. Professor Sanneh is the author of several books including Translating the Message: The Missionary Impact on Culture (2009), Disciples of All Nations: Pillars of World Christianity (2007), the inaugural volume in the Oxford Studies in World Christianity series of which he is series editor. He is coeditor of The Changing Face of Christianity (2005). He has also authored over two hundred articles on religious and historical subjects. He has been chair of Yale's Council on African Studies. He was appointed by Pope John Paul II to the Pontifical Committee for Historical Sciences, and by Pope Benedict XVI to the Pontifical Commission for Religious Relations with Muslims. For his academic work, Professor Sanneh was made Commandeur de l'Ordre National du Lion, Senegal's highest national honor. Professor Sanneh is a fellow of Trumbull College and holds an M.A. from the University of Birmingham (England) and Ph.D. from the University of London.