W. David Baird Distinguished Lecture Series: W.S. Merwin
"An Evening of Poetry with Pulitzer Prize-winner W.S. Merwin"

Tuesday, October 27, 2009, 7 p.m.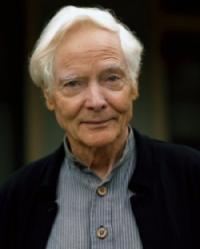 In a career spanning five decades, W.S. Merwin, poet, translator, and environmental activist, has become one of the most widely read poets in America. The son of Presbyterian minister, for whom he began writing hymns at the age of 5, Merwin went to Europe as a young man and developed a love of languages that led to work as a literary translator. Over the course of his career, Merwin has published over 20 books of poetry and nearly 20 books of translation. His writings include A Mask for Janus, The Lice, and The Carrier of Ladders, for which he received the Pulitzer Prize. His recent collections include Present Company; Migration: New & Selected Poems with won the 2006 National Book Award; The Pupil; The River Sound, which was named a New York Times Notable Book of the Year; Flower and Hand: Poems 1977-1983; The Vixen; and Travels, which received the Lenore Marshall Poetry Prize. Merwin is a former chancellor of the Academy of American Poets and has served as poetry consultant to the Library of Congress. He currently lives and works in Hawaii.