W. David Baird Distinguished Lecture Series: Dr. Nussbaum
"Not for Profit: A Defense of Liberal Education"
Thursday, January 29, 2009, 7 p.m.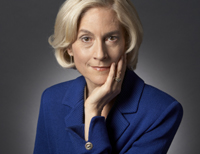 Dr. Nussbaum did her undergraduate work in theater and the classics at New York University, and earned her MA and PhD degrees in philosophy from Harvard. She has taught at Harvard, Brown, and Oxford Universities; currently she is the Ernst Freund Distinguished Service Professor of Law and Ethics at the University of Chicago Law School. Professor Nussbaum is internationally acclaimed as a lecturer, and she has received honorary degrees from thirty-two colleges and universities in the U.S., Canada, Asia, and Europe. She is the author of fourteen books, including prizewinners like Cultivating Humanity: A Classical Defense of Reform in Liberal Education (1997) and Hiding from Humanity: Disgust, Shame, and the Law (2004) and path breakers such as The Clash Within: Democracy, Religious Violence, and Indian's Future (2007) and Liberty of Conscience: In Defense of America's Tradition of Religious Equality (2008).