W. Baird Distinguished Lecture Series: Myrlie Evers-Williams and Jerry Mitchell
Ms. Myrlie Evers-Williams and Mr. Jerry Mitchell
"Stories of Justice and Redemption from Mississippi"

Tuesday, March 27, 2007, 7 p.m.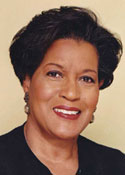 Myrlie Evers-Williams is a native of Vicksburg, Mississippi. She attended Alcorn A&M College, where she met her husband, Medgar Evers. Both were active in the Mississippi office of the NAACP and were leaders in the civil rights movement. Their home was firebombed in 1962, and Mr. Evers was gunned down in his driveway the following year. Thereafter, Ms. Evers and her children moved to Claremont, California, where she enrolled in Pomona College and completed a BA degree in sociology.
In 1988, she was named to the Los Angeles Board of Public Works, where she oversaw a budget of nearly one billion dollars. Now a resident of Bend, Oregon, she is the author of two books: For Us, the Living (1967) and Watch Me Fly: What I Learned on the Way to Becoming the Woman I Was Meant to Be (1999).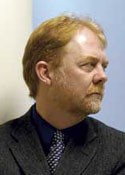 Jerry Mitchell grew up in Texarkana, Texas. After taking a BA degree from Harding College and an MA degree from Ohio State University, he went to work for the Clarion-Ledger in Jackson, Mississippi (1986). He quickly made a name for himself as an investigative reporter of civil rights issues of the past. His work made possible the arrest and conviction of evildoers who orchestrated the deaths of civil rights workers some 40 years ago, not the least of whom was Byron De La Beckwith who had assassinated Medgar Evers in 1963.
In all, Mr. Mitchell's dogged reporting has caused officials to renew investigations into 29 killings, which have led to 27 arrests and 22 convictions (including four Klansmen). For his work, he has been awarded the John Chancellor Award for Excellence in Journalism (2005), the George Polk Award for Justice Reporting, and 18 other national awards. In 2006, he was a finalist for a Pulitzer Prize.