W. Baird Distinguished Lecture Series: Dr. Shlain
Dr. Leonard Shlain
"The Alphabet Versus The Goddess: The Conflict Between Word and Image"

Tuesday, October 24, 2006, 7 p.m.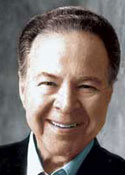 Dr. Shlain grew up in Detroit, Michigan, attended the University of Michigan, and took his MD at Wayne State University School of Medicine (1961). He is currently chairman of laparoscopic surgery at the California Pacific Medical Center in San Francisco and is an associate clinical professor of surgery at UCSF. He is also the author of three critically acclaimed, national bestselling, award-winning books. These include Art & Physics: Parallel Visions in Space, Time, & Light (1991), which the Los Angeles Times proclaimed a "tour de force"; The Alphabet Versus the Goddess: The Conflict Between Word and Image (1999), which achieved national bestseller status; and Sex, Time, and Power: How Women's Sexuality Shaped Human Evolution (2003), which also achieved best-seller status. Dr. Shlain is presently working on a book entitled "Leonardo's Brain: The Right/Left Roots of Creativity." He lectures widely in the United States and Europe. He has been a keynote speaker for such diverse groups as the Smithsonian Institution, Harvard University, Florence Academy of Art, and the European Union's Ministers of Culture.