Dean's Lecture Series: Dr. Dunn
Dr. J. G. D. Dunn
"Jesus Remembered (The Making of Christianity)"
Sunday, January 8, 2006, 7 p.m.
Monday, January 9, 2006, 7 p.m.
Tuesday, January 10, 2006, 7 p.m.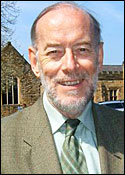 Dr. J.D.G. Dunn, Emeritus Lightfoot Professor of Divinity at the University of Durham, England, will deliver the Second Annual Frank Pack Distinguished Christian Scholar Lecture. He received a bachelor of divinity and a master's degree in economics from the University of Glasgow, and a Ph.D. in New Testament from Cambridge University. As a New Testament scholar, he is widely known for his writings on the Holy Spirit, St. Paul, and Jesus, as well as for his studies of the evolution of the historical critical method and the relation between Christianity and Judaism in the first century. He is the author of some 180 articles published in academic journals, the editor of six books, the co-author of two books, and the author of twenty-two others, from the early and influential Baptism in the Holy Spirit (1970) and Jesus and the Spirit (1975 and 1997) to the recent Theology of Paul the Apostle (1998) and Jesus Remembered (2003). His lectures are sponsored by the Office of Church Relations and hosted by Phi Eta Sigma, the Freshman honor society.