Dean's Lecture Series: Dr. Richardson
Dr. Elaine Richardson
"Lil Kim, Hiphop Womanhood, and Speak in the Truth"

Thursday, October 27, 2005, 7 p.m.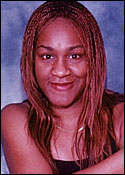 Dr. Richardson took her B.A. and M.A. degrees from Cleveland State University and her Ph.D. from Michigan State University. After teaching for two years at the University of Minnesota, she accepted her current position in the English Department at Penn State, where she serves as Associate Professor of English and Applied Linguistics. Her critically acclaimed book, African American Literacies, explores the use of African American Language and Literacy traditions in the teaching of literacy and composition. She is currently working on a second book-length project, tentatively titled Hip Hop Literacies, in which she explores knowledge represented in hip hop language usage and aesthetics as an extension of traditional Black folk cultures. Dr. Richardson's lecture is sponsored by the Seaver Board of Visitors and Seaver Parents Council and hosted by members of Sigma Tau Delta, the English honor society.