Dean's Lecture Series: Dr. Weathers
Dr. Stephens Weathers
"The (Other) Good Confession: 'I Was Wrong'"

Monday, October 10, 2005, 7 p.m.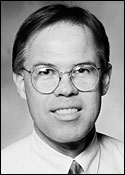 Our speaker for the Twenty Sixth Annual William M. Green Distinguished Christian Scholar Lecture Program, Stephen Weathers, is a native of Panama City, Florida. Weathers took his B.A. and M.A. degrees from Abilene Christian University and his Ph.D. in English from Florida State University. His area of emphasis is the twentieth century American novel. In addition to several creative writing publications, Weathers is a co-editor of the anthology Shadow & Light: Literature and the Life of Faith. Weathers is presently an associate professor of English at Abilene Christian University. This lecture is sponsored by the Office of Church Relations in honor of William M. Green and hosted by students active in Campus Ministry at the University Church of Christ.